Fifty years ago, you could have groceries and butcher meats delivered to your home through cashless transactions conducted in-person or over the phone. Holiday gifts, such as a sweater from Macy's or a gift basket from Harry & David, could be ordered via a mail-order catalog and dropped off to friends and family by a man in a great big brown van. All without going into a store. In fact, in 1987, a full seven years before the first e-commerce shopping transaction took place, 88 million Americans shopped by phone or mail from more than 8,000 mail-order catalogs.
The point here is not to reminisce, but rather to demonstrate that consumer behavior has been relatively consistent over time. We are not experiencing a "retail apocalypse," but rather a technology-fueled evolution. Throughout history, retailers have died when they've failed to adapt to changes in tastes, social preferences, styles, the in-store experience, and relative economic prosperity. The turmoil of the past ten years only reinforces the fact that brick and mortar retailing will continue to be a social staple of society.
The opportunity for retailers to thrive in the future has never been better.
The impact of Amazon and the evolution of e-commerce, in general, has actually been great for brick and mortar retailing. The opportunity for retailers to thrive in the future has never been better. Those brands that demonstrate the ability to quickly adapt to data and new technologies, like in-store personalization and cashierless technology, will flourish. Last year, major retail chains opened 4,000 more locations than those that were closed. And, according to JLL Realty, digitally-native brands are set to open more than 850 stores over the next five years as the marketing convergence of physical presence and clicks drives greater traffic and overall sales.
AS TECHNOLOGY AND COMPETITION CONTINUE TO CREATE MORE OPPORTUNITIES TO INNOVATE, SUCCESSFUL RETAILERS WILL…
1. Build a non-commoditized brand that stands for something
2. Use data for personalization to build brand affinity and basket size
3. Employ technologies to create experiences that intensify the brand connection and engagement
4. Fulfill the expectation of more convenience across all brand touchpoints
Brand Persona
A winning brand has a personality that consumers can connect with. Brand advocates will support this persona through authentic, social stories conveyed orally or by social media. Commodity brands that stand for nothing and try to advertise their way to success through off-price promotions will ultimately fail.
Being a brand without its own identity stinks. It ends up getting crushed by having to define itself through those brands that surround it. A true, non-commodity brand will embrace and promote its inner self. This may involve self-perceived risk. However, it is imperative to stand for something that makes people feel good about themselves. This stance must be both internally- and externally-facing to provide consistency across all touchpoints.
Around 1990, a bakery-cafe concept, which would become Panera Bread, refused to define itself as fast food or formal sit-down, and created the fast-casual food service category. Everybody wanted to be the "next Panera" as it delivered an 86-fold return to shareholders during its 20 years as a public company.
More recently, Arby's, a sandwich brand that had languished and been given up for dead, literally embraced its inner self. With the launch of the brand's 2014 "We Have the Meats" campaign, the company experienced a turnaround that led to a more than 20 percent comp-sales growth over three years at a higher gross margin. Arby's has created a fun, self-deprecating, and authentic persona that is consistent across multiple media platforms. Struggling QSRs today now want to be the "next Arby's."
Winning brands will shun pricing gimmicks that don't work and erode equity, while rewarding loyalty with thoughtful opportunities that are meaningful to the individual.
Personalization
Smart brands will ultimately know their customers better than those customers know themselves. They will utilize technology to coordinate outfits and home décor, and algorithms to upsell through customized and dynamic messaging. Consumer-focused and data-informed, winning brands will shun pricing gimmicks that don't work and erode equity, while rewarding loyalty with thoughtful opportunities that are meaningful to the individual.
Eventually, brands out in front will be able to provide hyper-customized and on-demand services. Consumers will expect that they can summon their brands at their convenience and that the brand, in turn, will anticipate their wants and needs. They will require the brand to locate exact products and sizes with ultra-fast delivery or access, perhaps even concierge service. Retailers, for their part, will experiment with dynamic pricing models based on individual profiles, supply and demand, and event timing.
Nordstrom Local is a test concept that began in late 2017 in southern California. According to Nordstrom, the local service hub is "designed specifically to support our customers in a convenient and efficient way—on their terms." Through Nordstrom Local, customers can access services that include personal stylists, in-store pickup of online purchases, alterations and tailoring, same-day delivery, curbside pickup, and the Nordstrom style board app—a mobile- and desktop-accessible, personalized fashion digital board.
Experiential
The application of new technologies will allow retailers to create experiences that enrich consumer brand engagement. Whether virtually trying on new looks at a local store event or using technology to automate the in-store journey, staying stagnant is not an option. Consumers will expect their retail brands to employ the latest interactive tools that innovate and enhance unique in-store opportunities.
While people, customization, and customer service will still matter, ambassadors will want to know that the brands they love are technological leaders. This includes building the flexibility into store footprints that can quickly adapt to fast-changing trends. Successful retailers such as Target are moving into smaller spaces in high-density geographies. A new Walmart initiative focuses on the remodel of existing supercenters that uses customer shopping behavior to reimagine store layout.
Today, well-informed retailers are upping their in-store game to create an omnipresent experience consistent with that available through a mobile device and online. The ultimate goal will be to offer a genuine "channel-less" experience where the channel itself becomes almost immaterial. All brand interactions will be focused around the customer. Response data anticipates what the customer will need or ask for next.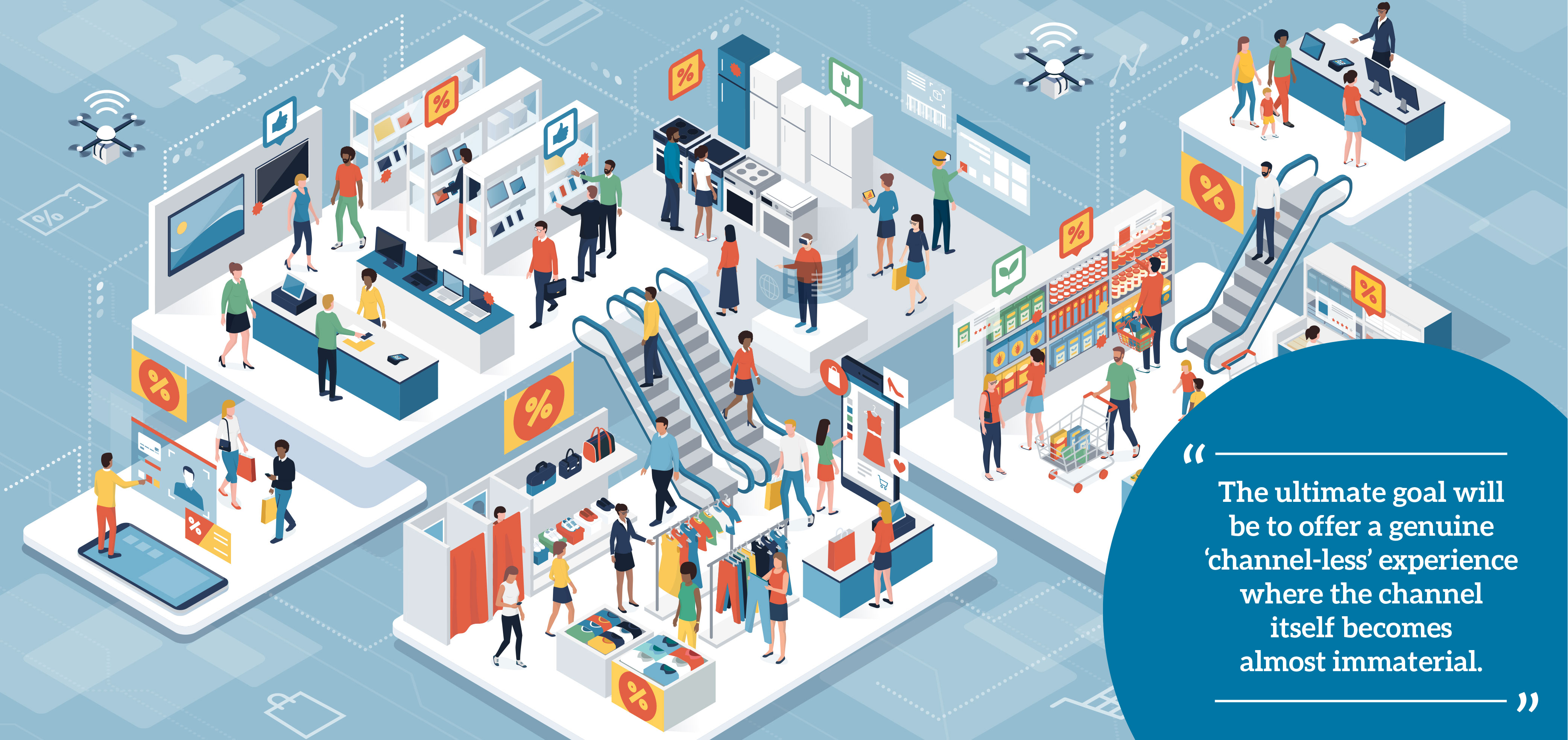 Greater Convenience
In a recent Salesforce.com report, 64 percent of consumers say they expect companies to respond to and interact with them in real time. And, the need for speed will only increase as technology enables and advances. In a channel-less environment, the response and interaction itself will be channel-less too, by reaching out and serving a customer in the physical context they happen to be in at that moment.
In the future, mobile checkout will be the minimum point of entry. Walmart is currently testing its "Scan & Go" technology that works on personal smartphones. Amazon Go is testing "grab and go" technology with no lines, no checkout, and no cashier. RAIN RFID technology, that is not part of the Amazon Go test, can be used to automate inventory by tracking an item's identity, location, and authenticity.
The future of brick and mortar retailing will be realized through the continuing evolution of serving the needs of the next generation of shoppers. Remaining stagnant is not an option, and today's successful brands are on the offense. Technology and tools will facilitate convenient and stress-free decision making. Consumers will expect transparency and a return on the buying data and information they provide. The will of brands to compete and survive will help engineer the best solutions geared towards consumer happiness and fulfillment.