THE EMPIRE STRIKES BACK
On March 19, the multi-billion-dollar Disney empire grew larger after acquiring 21st Century Fox for $71 billion dollars. The move means this content giant is adding even more high-caliber films and franchises like Avatar and X-Men to its already iconic movie portfolio, but what changes will this bring to consumers and the streaming landscape?
For starters, this acquisition means that Disney now owns Fox Television Group (i.e., National Geographic and FX), but more notably, it's gained a 30% stake in Hulu, upping its total share to 60%. That controlling stake in Hulu makes Disney a big deal in the streaming space, especially considering that it's also eyeing AT&T's 10% share for acquisition.
In 2018, Disney pulled most of its original content from Hulu on the heels of announcing its own streaming platform (Disney+), which will roll out in November. That, coupled with its holdings in Hulu, had the company's CEO Bob Iger reaffirm in a recent press release that Disney's emphasis on streaming capabilities "remains [its] number one priority." As Disney vies to compete with heavyweights the likes of Netflix and Amazon, Lee Odden's quote rings exceptionally true: "Content isn't the king, it's the kingdom."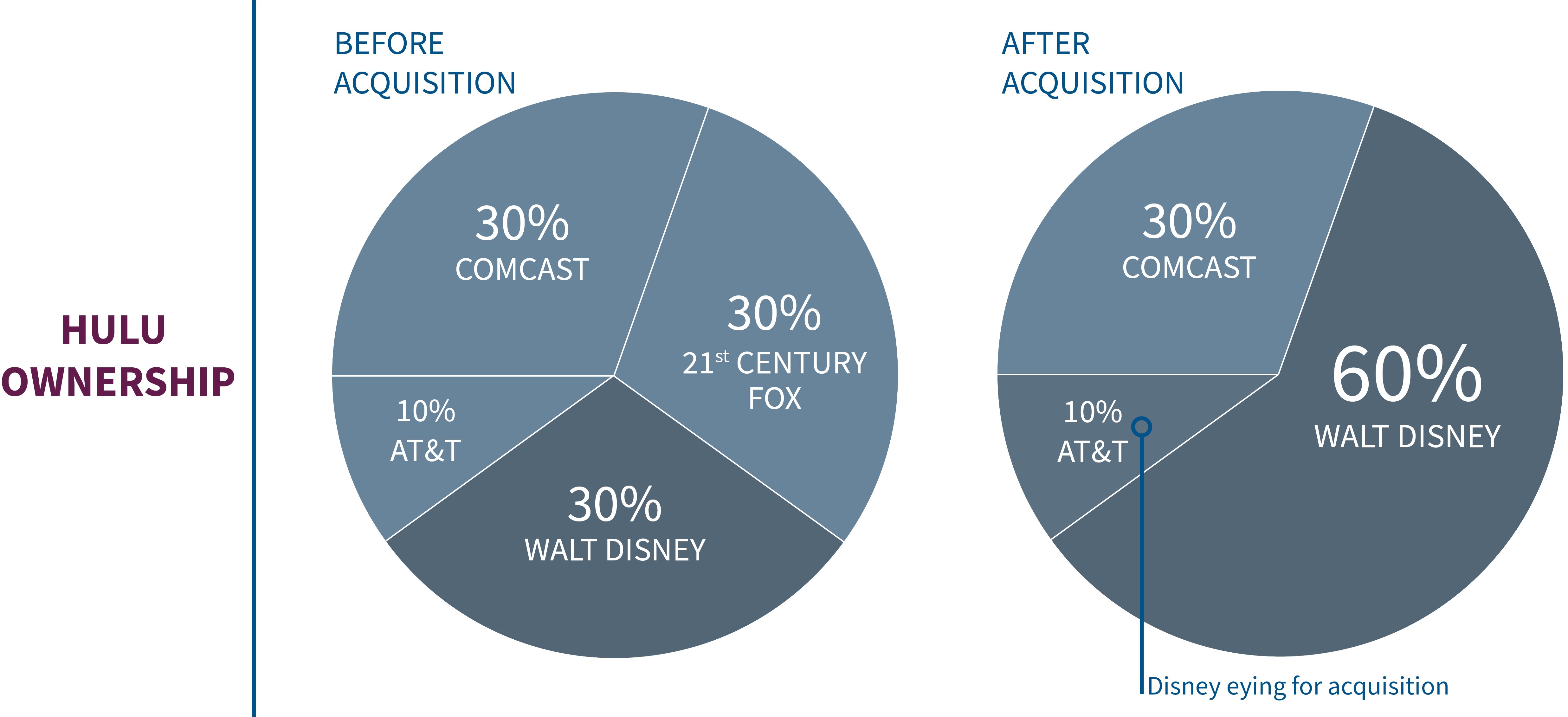 THE FUTURE OF DISNEY BEGS SOME BIG QUESTIONS:
With a potential 70% share in Hulu, how does Disney+ fit into the brand's overarching streaming strategy?
Will Comcast continue to offer its content on Hulu when Disney is the majority shareholder?
How does Disney's dominance in the content wars and its growth in the streaming world impact the ad space?
TO UNDERSTAND DISNEY'S PROBABLE STREAMING STRATEGY, WE MUST FIRST UNDERSTAND ITS DIFFERENT SERVICES:
DISNEY+
Think of Disney+ as Disney Channel on steroids. The streaming-focused service is set to offer movies and programs from Disney's 90-year vault—including animated features, modern classics, and original programs. Set to launch in November at $6.99 per month, its price matches up very competitively against other streaming platforms. And while Disney leadership has been clear that Disney+ will be a family-first platform, there will certainly be some crossover into more adult themes with its Star Wars and Marvel Studios content (among others). 
HULU
Hulu, by comparison, will likely be positioned as a destination for more mature content—leveraging hits from 21st Century Fox's library like Deadpool and continuing to capitalize on successes such as The Handmaid's Tale. Disney has an acute focus on Hulu and, with an increased share, it will likely squeeze out Comcast (who currently owns 30%). If they do, CPMs could rise (which have been fairly consistent the last 3+ years), leading advertisers to pay more but for potentially even richer content.
ESPN+
ESPN+ is Disney's standalone subscription service exclusively for live and VOD sports content. Live sports remain a pillar of the video viewing space and capitalizing on a standalone product (as ESPN+ is purchased separate from ESPN cable), is a strategic push by Disney to reach on-the-go audiences eager to keep up with games. We envision this remaining a core element of their overall streaming portfolio.
WHAT DOES THIS ACQUISITION MEAN FOR THE AD SPACE? 
Balancing Ad-Supported & Ad-free Services
With three distinct streaming services, Disney has a unique value position in the marketplace with products geared toward varying audiences. It's unlikely that Disney+ will offer an ad-supported model (largely to remain competitive with Netflix and Amazon), however, if Disney is wise, it will ensure ESPN+ and Hulu continue to do so, especially considering that 40% of the latter enjoy the freemium model. That, coupled with the recent Hulu and Spotify partnership (where for a limited time consumers can get Spotify Premium + Hulu's ad-supported plan for just $9.99 per month), is a distinct effort to boost Hulu's subscriber base while systematically upselling its $44.99 per month Live TV offering as additive (which particularly appeals to younger demographics who are not tied to hardwire cable providers). And Hulu's recent price drop of its starter ad-supported subscription from $7.99 to $5.99 per month indicates it sees ad revenues as core to its business model while it seeks ways to aggressively grow its share of viewers. Disney is almost certain to preserve this going forward. These moves are also likely to put added pressure on Netflix and Amazon Prime to get creative with their revenue and subscription models in the coming years.
[Hulu] is already launching new types of inventory, such as static ads on pause menus, to help boost its overall ad revenues.
Hulu Ad Unit Costs: Trending Upward?
Between the major networks, films, and its original content, Hulu commands a healthy and diverse array of programming in the streaming landscape. And while Hulu CPMs have remained fairly constant over the past few years, this could change. The prospect of a swelling subscriber base paired with Disney's majority ownership (which should add Fox Studios' content like Avatar, Deadpool, X-Men, Logan, and others to the streaming service), could provide justifications for increasing ad costs. The streaming giant is already launching new types of inventory, such as static ads on pause menus, to help boost its overall ad revenues—revenues which have been increasing significantly in recent years. Just last year, they jumped 48% from $986 million to $1.5 billion according to an eMarketer analysis. This same forecast is projecting Hulu's ad revenue will average 22% growth each year through 2021. Disney's indication that it will turn up investment levels in producing original content for Hulu should also help the streaming platform make a stronger case for increased unit costs. Either way, Hulu will certainly take an even more prominent place in streaming video budgets over the coming years given its strengthening position and expansion of inventory options.
Upselling & Brand Integrations
Historically, Disney has excelled at monetizing its content and products. After speaking with Netflix's new CFO Spencer Neumann (who previously worked at Disney), Bloomberg reporter Eric Newcomer wrote that Disney does "a great job of charging different customers vastly disparate amounts of money for consuming their content. [It] doesn't just charge you for a ticket to see Star Wars. If you're a superfan, you can buy action figures, go to a Disney theme park or watch 'The Clone Wars' [via streaming services]. Essentially, there are endless ways to upsell customers based on their affection for a particular piece of intellectual property."  We may see Disney eventually follow this path with its own streaming services—varying pricing based on usage and consumer desire for access to various pieces of content. This could lead to more unique advertising opportunities such as brand and product integration within content, especially in the absence of an ad-supported model on Disney+, given its rich cinematic and programming vault. Of course, integrations will come at a price, but that price will be scaled to the popularity of the content.
Increased Competition & Acquisitions
With AT&T's $85 billion acquisition of Time Warner, it has definitively positioned itself as an entertainment competitor. Early reports of the buyout indicate that AT&T is restructuring Time Warner to prioritize streaming services over cable TV networks. In a recent Associated Press interview, CFRA Research analyst Keith Snyder said, "[AT&T] wants a lot more content coming out of Warner… That's going to help them launch the streaming service and go up against Disney. They really need to start generating more content…This reorganization is aiming at that more than anything." This likely affirms speculation that AT&T is handing over its share of Hulu to Disney to focus on its own WarnerMedia streaming service. And beyond just AT&T, competitors like YouTube TV, CBS All Access, Netflix, Amazon Prime Video, and others will surely be adjusting their own content, subscription, and revenue models in the coming year. Advertisers should be watching these moves closely to see where both the highest share and various types of audiences ultimately end up landing.
Within the streaming space, large media companies have been slow to adapt to change in the digital era. As a result, these companies are consolidating through acquisition and tightening the reins on their content to both protect against disrupters in the space and defend their share of viewers. It will be interesting to see if Disney's moves will pay off and ultimately win both audiences and advertisers.