What does a potential national ban mean for marketers?
TikTok is receiving a large amount of backlash from the U.S. Congress due to increasing allegations regarding the platform's ties with the Chinese Government and their potential ability to share users' personal data with Chinese organizations. Given that ByteDance (TikTok's parent company) is based in China, the U.S. government has growing concerns regarding data privacy for American users and the overall safety of the platform. The app is being investigated, and it has been recommended by the FBI and FCC to institute a national ban on TikTok.
On March 23, 2023, TikTok CEO Shou Zi Chew appeared before the U.S. House Energy and Commerce Committee, where he was questioned regarding the app's privacy laws and data sharing. A large focus surrounded the platform's impact on children. While a final verdict has not been reached regarding the ban, CEO Shou Zi Chew's prepared statement to the Committe stated that TikTok will:
"Keep safety—particularly for teenagers—a top priority."
"Firewall protected U.S. user data from unauthorized foreign access." (U.S. data will be stored on U.S. soil and looked over by an U.S. owned company, Oracle, with U.S. personnel)
"Remain a platform for free expression and will not be manipulated by any government."
"Be transparent and give access to third-party independent monitors, to remain accountable for our commitments."
Congress has not since released any further definite information regarding the ban. Until a final decision is reached, TikTok will continue to be available in the U.S., with steps being taken to ensure users' personal data is secure to prevent any further issues and accusations from arising.
Until a national ban is in place federally, 27 states in the U.S. currently have a partial or full ban of the TikTok app on government devices. Similarly, many major colleges and universities are banning the use of TikTok on state-owned devices and on the school Wi-Fi network.
Who uses TikTok?
TikTok is a short-form video social media platform that is largely used by a younger demographic. According to Statista, 67% of users surveyed in the 18-19 age group and 56% of users 20-29 responded that they use TikTok. Recently, TikTok released a statement saying that over 150 million of their users are American and, out of this number, 5 million are small to mid-sized businesses. This highlights the substantial number of U.S.-based companies that depend on the platform for advertising purposes and as a tool to connect with their audiences and build brand loyalty and awareness.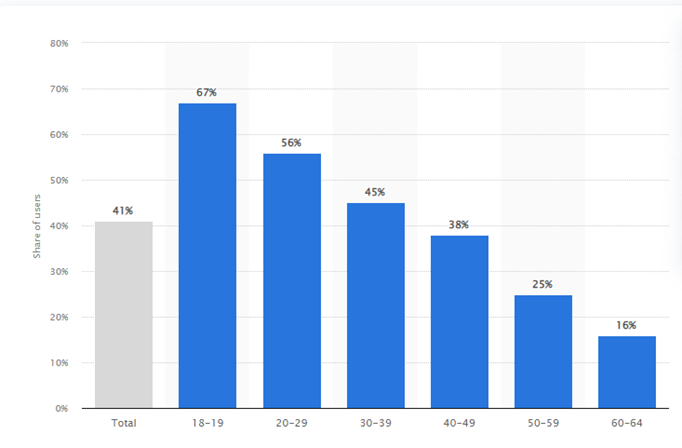 Over the last few years, the platform has begun to surpass YouTube in time spent on the app. According to Statista, it is projected to continue surpassing YouTube in 2024 if the ban does not take place. While TikTok is still performing below Netflix, it is impressive to see the platform surpassing YouTube due to the shorter length of its videos compared to the average video length on YouTube.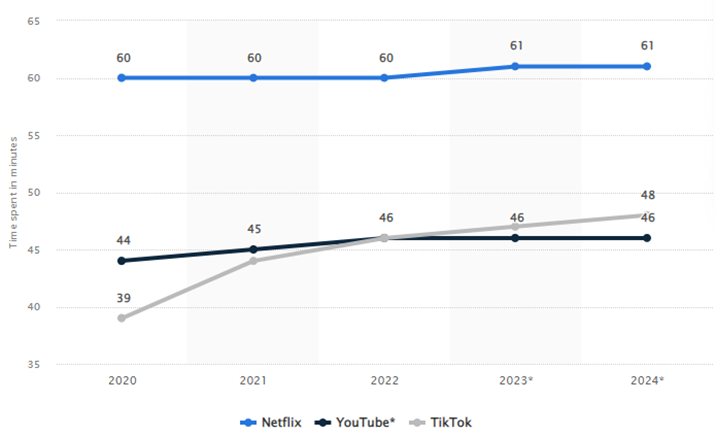 What are the implications for brands and marketers? 
If the potential ban of TikTok is established, there will be direct effects for brands and marketers. According to research done by Microsoft, the ban on TikTok could cause a redistribution of market share that could benefit rival platforms, including Meta and Snapchat, as marketers reallocate their paid social budgets to other platforms. Given the uncertainty surrounding the state of TikTok and potential legislation against it, many brands are holding back on increasing their TikTok ad spend despite positive performance on the platform.
Currently, TikTok has 2.3% of global digital advertising market share and nearly 1/5 of internet users are active on TikTok. Given that TikTok is primarily a short-form video social platform, brands and marketers would need to look elsewhere to share their short-form video content. The below chart from eMarketer and Cowen Research shows which platforms TikTok users (and likely advertisers) would pivot to if TikTok became banned in the U.S. The consensus from a large percentage of respondents is that a TikTok ban would not cause them to seek similar content on another platform.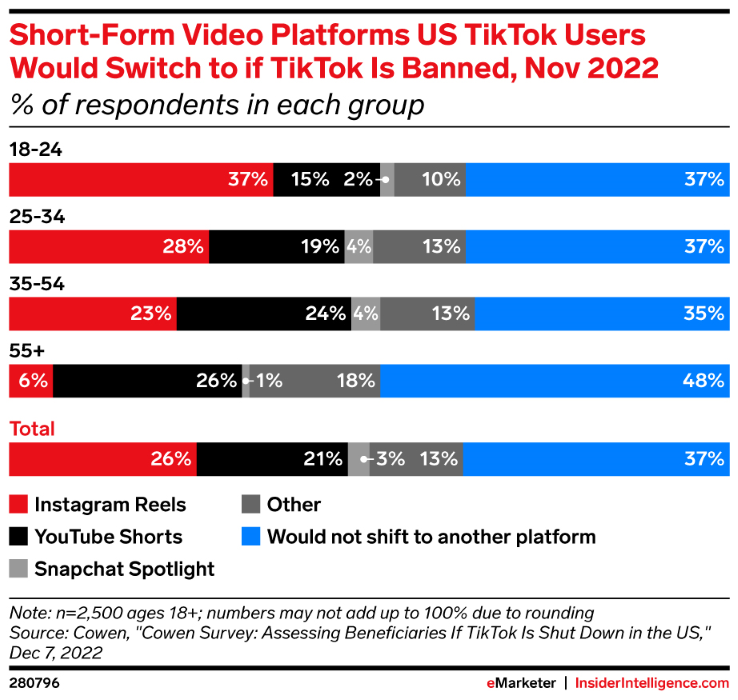 How should brand marketers react? 
If a ban were to occur quickly, TikTok campaigns would need to be turned off mid-flight, reallocating unspent budgets as needed. If a nationwide TikTok ban becomes a reality, brands utilizing TikTok to run media could repurpose previously generated TikTok content as Instagram Reels so that creative assets are not wasted. Alternatively, funds could be reallocated to Paid Search to utilize YouTube Shorts, another very popular short-form video platform.
For brands running influencer programs with paid TikTok support, the overall plans will need to be reevaluated and adjusted to support posts on alternative platforms. This also affects the influencers that are selected for the program based on what kind of content or posts they are creating for the brand to repurpose.
Privacy concerns with TikTok are largely related to the Chinese government having access to user data. However, it is worth noting that the data that is being collected by TikTok is also being collected by other social media apps. Currently, KSM's best practice on TikTok is to run ads on a limited inventory setting to keep brands safe. Additionally, there is now partnership capability between TikTok and IAS to implement an added layer of security via blocklisting for KSM's clients. If a brand is not particularly sensitive to TikTok being owned by the Chinese ByteDance parent company, there is no strong cause for concern at this time until a ban is officially implemented.