Which social media platforms and tactics stand to gain the most ground in a post-COVID landscape?
As the world moves through (and eventually past) the COVID-19 pandemic, marketers and brands are continuing to assess its impacts on various channels. Social media has been a particular hotspot as consumers seek out ways to stay connected with friends and family and alleviate loneliness when social distancing.
It comes as no surprise that usage rates in recent months are up across the board, with social networks increasingly serving as both a source of breaking information and a place to pass the time. U.S. adults 18+ spent an average of 82 minutes per day on social during the height of the pandemic, an 8% increase YoY. Globally, 45% of consumers spent more time on messaging services and 44% spent more time on social media during the month of April alone. While these trends seem positive, what does it mean for marketers, and what have social platforms done to capitalize on this spike and grow market share?
KEY TAKEAWAYS
There have been a wide range of impacts across social channels, but the overarching trends show usage rates through the roof and costs lower than typical. Because of that, there is no better time to maximize audience reach or try new social strategies. Running ads when budget allows keeps awareness in the moment up, and builds long-term trust, customer value, and loyalty. Below are some key takeaways to consider in this moment when revamping a social media strategy:
There are deals to be had.

With Facebook, Instagram, and Snapchat ad revenues and CPMs trending down, marketers can run campaigns cheaper than before the pandemic. And even though Twitter showed better than expected ad sales for Q1, its Q2 results, along with other platforms, are likely to show carnage from COVID. Influencers also represent a relative deal at the moment as some shift their models to new products and audiences.

"Newer" platforms have lots to offer in this moment.

TikTok, Snapchat, and Instagram are all overhauling social video and building out new features at lightning speed, as the pandemic has certainly caused many of them to accelerate their offerings. Keep an eye on growth and reach capabilities here.
But "legacy" platforms are still keeping things interesting: Facebook is expanding its empire in more ways than ever, placing big bets on ecommerce with the launch of Shops, and driving more virtual connectivity for its users in both personal and group settings via Messenger Rooms. It's also making tangible strides to overcome recent consumer trust issues. And Twitter is proving that it's still the most popular platform for real-time news on social, a critical differentiator in periods of turmoil. The launch of its fact check feature, and the continued evolution of its curated Moments, will continue to position it as a social platform that prioritizes its informative stories as much as its amusing and entertaining content.

Video continues to be the way forward for all.

Every single social platform has placed an increased focus on how video will drive user growth, engagement, and features moving forward. From Twitter Moments, to Facebook Watch, to IGTV, to short-form platforms like Snapchat and TikTok, video remains the common thread. As social platforms enhance video product and content offerings, the opportunities for brands to engage in even more highly-targeted and contextually-relevant ways will continue to proliferate.

Focus on your "re-emergence" plan, but don't lose sight of the day-to-day.

The fact is, the world is experiencing a lot of conflict in 2020, and social is the place where it all comes out. This may be social 101, but it's more important than ever to be aware of the weekly and sometimes daily shifts that can affect messaging. The worst faux pas a brand can commit in this space is to come across as tone deaf and inauthentic.
As shifts in consumer behaviors continue to drive revamped business strategies and services, it will be critical for social platforms to adapt to the changes, stay top-of-mind, and provide the resources and capabilities needed to make an impact. Below, we dive into the specific consumer and advertising shifts across five of the top social platforms and within the influencers space, to detail what the latest developments mean for marketers.
FACEBOOK


Usage Changes and Consumer Shifts
In Q1, Facebook added 105 million new active monthly users from the previous quarter, and logged a 10% increase YoY. Additionally, the number of daily active users jumped 77 million, resulting in the biggest increase since 2011 and representing an 11% increase YOY. Facebook has also seen increased usage in voice and audio calls on WhatsApp and Messenger, as well as a spike in video usage, specifically on Facebook live.
As the largest social network in the world, it is not surprising that Facebook has taken steps to provide consumers with bolstered informational resources, especially as it aims to move past its recent history of privacy and content moderation snafus. Facebook launched a COVID-19 community hub on Messenger, providing authoritative information from trusted health sources, allowing consumers to easily stay connected with family, friends, businesses, and communities, and giving tips and tools to keep consumers safe from malicious activity during the pandemic. Time will tell if these pivots help rebuild some consumers' lost trust in the platform and continue driving both new and resurging usage.
Platform Updates
The new Messenger Rooms service, like Zoom and other video communication services, allows users to host a meeting with up to 50 people at once. This greatly increases capacity from Messenger's previous eight-person limit. Users can be invited even if they do not have a Facebook account and the platform supports both closed meetings and topic-themed rooms that anyone can see and join. Additionally, Facebook released a gaming app to take on Twitch and other gaming services. Beyond diversifying its offerings, the new app is certainly poised to help Facebook regain and add new active users, given the increase in gaming popularity before and during social distancing.
Another big update for the social network giant is the launch of 'Shops'. Shops will enable brands to set up product listings on their Facebook page, Instagram profile, Stories, or in ads. Shops will also allow brands to sell products through chat on WhatsApp, Messenger, and Instagram direct. Consumers will be able to browse and buy products directly on the platform without having to click out to a website. Shops is currently only available for Facebook, but will be rolling out to Instagram in the summer. Unlike Facebook's previous e-commerce capabilities, this update allows brands to advertise products across a much wider variety of locations within the platform. The pandemic accelerated the launch of Shops as Facebook looks to find ways to drive hurting businesses back to the platform.
Advertiser Shifts
Consumer usage has gone up, but Facebook has also seen a decrease in ad spend due to uncertainties in the state of business for many marketers. Facebook reported 89% of advertisers have taken action with their budget in response to these conditions, with 45% saying that they have adjusted media type usage or shifted budget among media types. The changes in advertising behaviors have also had an impact on Facebook's CPM, which has dropped below $2 for the first time in the company's history, according to MediaPost.
Finally, Facebook is showing its support for the small businesses that make up the majority of its 8 million advertisers by offering cash and ad grants for those impacted by COVID.
Opportunities for Marketers
With a decrease in ad spend, lower CPMs, increase in usage, and new shopping capabilities, there is less competition in the market and more opportunities to reach a larger audience at a more efficient cost. Given that Facebook had previously been a highly-cluttered space for advertisers, now is certainly a great time to capitalize on these trends to build awareness and consumer sentiment. The opportunity for retail and e-commerce brands is particularly ripe.
INSTAGRAM


Usage Changes and Consumer Shifts
Instagram has been popular across all age groups for quite some time, but was only projected to see 1.5% in growth of time spent on-app going into 2020. However, due to COVID-19, Instagram saw growth of 14%; higher than Facebook and Snapchat. This jump may be attributed to the increased usage of IG Live (+ 70%). That functionality has been popular for live music events in particular, and has presented opportunities for brands to engage with audiences in new and fun ways.
Platform Updates
Instagram has taken multiple steps to ensure consumers are given accurate information and feel connected and supported: resources and additional information can easily be found on the homepage and in Search, and third-party fact checking ensures content viewable on Instagram is, in fact, accurate.
To help support relief efforts, Instagram launched donations stickers on Stories, which allow consumers to select an eligible nonprofit of their choice and donate. Instagram has also added a donate button to eligible business accounts, giving consumers an opportunity to donate at the click of a button.
Outside of COVID-19 updates, Instagram has also been making updates to IGTV, aiming to put more emphasis on top creators who drive engagement within the video platform. Updates include a change to the homepage which will feature a popular creator at the top, tailored to each user based on who they follow and content the user might find interesting. A Discover tab will also be added, allowing users to view content more quickly. In addition, IGTV launched the first stage of monetization for a select group of creators. If this takes off, it is likely that influencers (and their large audiences) will flock to IGTV as it will provide them with a new source of income.
As noted previously, Shops will allow brands to sell products on their Instagram profile, Stories, and ads, where consumers will be able to purchase directly on the app. This update will be available for Instagram sometime this summer.
Advertiser Shifts
Since Facebook owns Instagram, and advertising on Instagram is done on Facebook's self-serve platform, advertisers naturally pulled out of Instagram when doing so for Facebook. Though the broader Facebook ecosystem took a hit due to COVID-19, Instagram actually reported a 39% increase in advertising spend YoY.
Opportunities for Marketers
Coming out strong in Q1 indicates that Instagram continues to be an effective social network for advertisers and may have a promising future well beyond the pandemic. With substantial audience growth rates, there is an opportunity for brands to get their message in front of consumers at a higher scale and drive engagement. With the addition of upcoming product launches and enhances to IGTV, Instagram will naturally draw in even more consumers and present more opportunities for marketers to get their brand in front of people.
SNAPCHAT


Usage Changes and Consumer Shifts
Snapchat grew its daily active users by 11 million in Q1, a 20% increase YoY. With increased usage, Snapchat has seen increases in video and voice calls, the number of snaps sent between friends, and longer periods of time spent using lenses (up 25% from February to March). Additionally, Snapchat states that time spent watching Snapchat Shows is higher than ever with a 35% increase YoY, and now sits at an average of 29.5 minutes. From a demographic standpoint, Snapchat saw a 60% increase in time spent on Discover for adults 25+, which is an audience outside of its core user group of adults 18-24. News, health and wellness, and gaming category content have also seen increases in engagement.
Platform Updates
To keep consumers informed, Snapchat has launched various resources, including a dedicated feed of coronavirus news in the discover tab of the app. This feed includes the latest updates from news sources, health officials, and messaging from the White House's COVID-19 task force. Additionally, Snapchat launched its own channel for information which features aggregated stories from Snapchat users.
To stay competitive and to keep its platform top of mind, Snapchat recently launched an update which included new filters and software improvements. Snapchat also released a COVID-19 Snap lens that shares key information on how to reduce your risk of infection. These updates help keep consumers informed and engaged while spending time on the app. Additional advertising updates include the global expansion of dynamic ad capabilities for e-commerce brands, which allows advertisers to upload their product catalogs and automatically create ads in real time. This offering was first available in the U.S. and has now expanded to the U.K., Germany, France, and the Netherlands due to the success from direct response ads. Brands who have been able to test dynamic ads in other countries are seeing the value, specifically Adidas who saw a 52% growth in ROAS.
Advertiser Shifts
Kicking off 2020, Snapchat saw huge increases in revenue growth YoY (up 44%) but saw about half that growth in March (up 25%) as the pandemic became more prevalent, and that velocity slowed to an increase of 15% from 4/1-4/19 and an estimated increase of 11% in the last week of April, further showcasing the impact that COVID has had on ad revenues. Snapchat seems to be in a good position compared to competitors as the app places emphasis on larger and more flush advertisers versus small businesses. For example, Snapchat may only have a couple hundred thousand small business advertisers whereas Facebook and Instagram have 8 million.
To support its advertisers, Snapchat launched a COVID-19 business resource center to assist with campaigns. The hub includes a range of resources, insights, and links to help marketers work through COVID-19 and better connect with their audiences. Going a step further, Snapchat published industry-specific trend updates to highlight key areas of focus. Not only are these efforts valuable to marketers from an execution standpoint, but they also show Snapchat's commitment to supporting marketers in a time of need.
Opportunities for Marketers
Though there has been a slowdown in revenue growth due to businesses pulling out of media spend, Snapchat's Q1 report showed increases in ad performance, specifically install volume for app ads and swipe up rates. This comes as no surprise given the increased engagement and time spent on app.
As media budgets are down and production is limited, marketers need to get creative. One great example: Snapchat worked with Universal on its promotion of the animated Trolls World Tour, which was digitally released instead of traditional cinema distribution. The release featured Trolls AR masks, which could be accessed with the Snap camera add-on. The campaign likely didn't produce the volume of sales it would have with a traditional release, but the digital approach was a massive success: the largest digital debut for a film ever. Though Snapchat was only one element to the release, these efforts showcase how the platform can play a role in driving interactive engagement moving forward.
TIKTOK


Usage Changes and Consumer Shifts
Highly popular TikTok has been on the rise for quite some time and continues to see an increase in new users and time spent on the platform. In fact, TikTok drove 315 million new installs since January, making it the most-downloaded app in a single quarter ever. Though the app has typically drawn in a younger crowd (A18-24), there has been an increase in usage by an older demographic as they are looking to pass the time. According to Adweek, the percentage of A18-24 visiting TikTok was down -5.8% from January to April, whereas the percentage of A25-34 and A35-44 was up 5.0% and 3.2% respectively.
Platform Updates
TikTok has also published resources and information on the app to keep consumers up to date. Additionally, TikTok has shown its commitment to supporting those who have been most affected by COVID-19, pledging $375 million ($250 million in funds, $100 million in ad credits, and $25 million in ad space) to support public health information. TikTok also launched donation stickers, allowing creators to fundraise for coronavirus relief efforts by donating to favorite charities. Though TikTok is not the only platform funding efforts and launching donation stickers, the support the new app brings may generate positive sentiment for this relative newcomer and could drive more consumers to the app.
Since TikTok is still new, there have been many concerns about safety, privacy, and user discrimination. The platform has worked on improving the safety and privacy settings within the app as they relate to parental controls and disabling direct messaging for those 16 and under. In addition, it has launched Youth Portal which gives teens and parents a single destination for safety resources, best practices, and guides to the video-creation application's tools. These are vital updates that needed to be made if the app is looking to be in the space for the long run. From a moderation standpoint, some big concerns arose after TikTok instructed moderators to suppress content from users who are deemed too "ugly, poor, or disabled," and to censor political speech. These internal leaks certainly spell trouble for the platform's image. While TikTok's official stance is that these efforts are aimed at attracting and keeping new users, this level of discrimination on a user-generated platform may ultimately hurt its popularity among some groups.
TikTok is testing a new ad format that links advertisers to influencers, allowing those creators display a call-to-action button in their videos. This update is in the very early stages and is only available to select advertisers and agencies. TikTok is also working on an augmented reality ad format that would compete directly with Snapchat lenses. Both updates are highly competitive and will likely draw more advertisers to the app as these ad capabilities already drive results across other social networks.
Advertiser Shifts
As a relatively new platform, advertising on TikTok is still in its infancy. TikTok introduced a self-serve ad platform late last year, giving only a select group of advertisers beta access. The platform has now rolled out to more advertisers, but businesses that sign up need to be accepted.
And while the ad platform also has some work to do to improve targeting and ad capabilities, it's already taken some steps to address this. For the first time, TikTok is presenting to advertisers at the Interactive Advertising Bureau's delayed NewFronts alongside YouTube and Hulu. Additionally, TikTok recently hired Disney's former head of streaming, Kevin Mayer, as their new C.E.O. These efforts are huge wins for TikTok and ultimately show the growth and potential this platform has to offer.
Opportunities for Marketers
Although advertising on TikTok is still emerging and has room for improvement, brands should keep this engaging, video-first app top-of-mind for future initiatives. Chipotle has seen massive success on TikTok, specifically with their hashtag challenge, #GuacDance. The challenge drove over 250,000 video submissions using the hashtag, resulting in nearly 430 million video starts in just six days. With the help of TikTok, Chipotle's National Avocado Day activations resulted in their biggest guac day in history with over 800K sides of guac served. Other brands such as Guess, Red Bull, and Kool-Aid have also made headlines on TikTok with various challenges that have generated views in the hundreds of millions. Kool-Aid in particular generated over 1.6 billion views with help of influencer partnerships for its #OhYEAHchristmas contest.
The success and engagement from this challenge demonstrates the power of TikTok and the impact it can have on businesses. For brands looking to reach younger audiences in an emerging video-first platform, now is certainly the time to give TikTok a look.
TWITTER


Usage Changes and Consumer Shifts 
Twitter has also seen large increases in usage with an increase of 24% YoY and a 25% increase in engagement YoY. The increased usage makes sense, given the platform is a place where consumers can read and respond to the latest news, including updates on COVID-19.  Twitter's CEO Jack Dorsey was quoted on CNBC as saying, "Twitter's purpose is to serve the public conversation, and in these trying times our work has never been more critical."
Platform Updates
Twitter has published probably the most content for keeping consumers and marketers safe during COVID-19. The Twitter blog features a robust list of updates and resources.
As Twitter faces challenges from the pandemic, there are new opportunities on the horizon. According to The Washington Post, Twitter said improving its ad products is now the company's "top priority" and that direct response ads are at the top of the list. Twitter is looking to make ads more measurable and accountable in terms of app downloads and is updating ad capabilities to include a clear call to action. These efforts will allow Twitter to stay competitive in the space as social networks such as Facebook and Snapchat have already seen strong success here.
Advertiser Shifts
Twitter started off strong in 2020, beating Wall Street analysts' expectations, but ultimately saw a 27% decrease in its ad revenue between March 11–31. Still, its strong 2020 start allowed it to mark a 3% YoY growth in ad revenues at a time when worldwide Q1 ad revenues were essentially flat YoY. According to eMarketer, Twitter's ad business is heavily event- and sports-driven. With event cancellations and suspension of sports, brands have been withholding spend on the platform.
With ad spend trending down, Twitter released an article with a list of seasonal celebrations and ideas for social promotions that could help inspire or distract consumers during and after the pandemic, which was a smart move given the nature of Twitter and the volume of content surrounding news and information.
At the start of COVID-19, Twitter restricted advertisers from mentioning coronavirus specifically, but eventually loosened up restrictions. Twitter believes ads will be positively received as this change gives marketers the ability to clearly highlight what their business is doing in the face of this crisis. This move gives Twitter an advantage as other social networks such as Facebook and Instagram, which have tight restrictions on mentioning coronavirus in ads.
Opportunities for Marketers
With Twitter being a social hub of news updates and information, the increase in usage during COVID-19 has only strengthened its position as a trusted source among its core audience, making Twitter a great place for marketers to position their brand alongside content consumers count on. And even though advertisers are spending fewer dollars overall on Twitter compared to some other social platforms, there are more opportunities than ever for brands to reach their audiences. According to a Global Report by We Are Social, advertisers can now reach 47 million more consumers on Twitter compared to January 2020.
Additionally, as seen from other social networks like Snapchat, direct response advertising drives business results. As Twitter evolves their direct response offerings, marketers will have more opportunities to find those harder-to-reach audiences and drive action.
INFLUENCER MARKETING


Consumer Shifts
Though influencers have taken a hit during the pandemic due to budget cuts from brands, the latest information indicates that those who are holding on are seeing increased engagement from consumers. Influencer marketing firm Influence Central surveyed its network of social professionals and found that a quarter saw notable increases in consumer engagement with Instagram and Facebook content, and one in nine saw "dramatic increases." And in terms of trustworthiness and overall perceptions, PR agency Matter Communications found that influencers are still viewed as trusted sources by consumers. Its post-COVID survey had 61% of consumers saying they were likely to trust recommendations from friends, family, or influencers on social platforms, and 82% percent purchased, researched, or considered purchasing based upon posts from these groups.
Health has been a big focus on people's minds lately, and influencers focusing on fitness, nutrition, and mindfulness have been reporting big spikes in consumer engagement as well. Exact numbers are hard to come by, but the ripple effect is being seen across Instagram most notably, with free fitness classes experiencing unprecedented growth. While this trend is likely to die down in the coming months as more regions re-open workout studios, some consumers and influencers may be hooked for the long run.
Industry Impact
Influencer marketers, ranging from fashion, travel, food, etc., have all felt the effects of COVID, especially travel influencers. With event cancellations and brands pulling out of deals, influencers are not getting nearly as many opportunities as before. In fact, 27.3% of U.S. influencers had fewer collaborations because of coronavirus, and while some are now seeing deals resume, influencer categories such as travel and entertainment continue to remain on pause. Influencers who once created content on beauty or travel have had to shift their focus towards consumer needs such as household products. That said, those that did manage to maintain projects through the worst of the pandemic are likely seeing some benefits from the fact that commercial productions were almost entirely shut down, making in-home and organic content a much more attractive option for brands.
Advertiser Shifts
While marketers have had to rethink their marketing strategy and tighten budgets, some are adapting to the crisis and using influencers as a source of production at a much lower cost and to deliver their message in an authentic, relevant way against a loyal influencer following. The fact that some analysts expect the cost of Instagram Sponsored Posts to decrease by 15 to 25% in the near term is a good indicator of the relative value of influencer content at the moment, since that ad format is heavily used by this group.
And though many marketers may not think their brand makes sense in this space, there are certainly opportunities for all. CEO of influencer marketing agency Takumi noted an increase in activity from finance companies. Though influencer efforts would not necessarily drive sales, these companies are leveraging them to boost awareness of the brand and services that consumers may need at this time.
Opportunities for Marketers
For brands that have had to make budget cuts but are still looking to have a presence online, influencers may be a good route to take. With influencer marketing gaining more traction (93% of marketers use influencers) and consumers itching for a sense of community when social distancing, influencers can reach a large audience with relevant, consistent messaging that keeps audiences engaged. They can "humanize" products or services and put them in appropriate context. Influencers can quickly pivot messaging to align with current conditions, making content seem more authentic while being socially conscious. They can drive high engagement due to trust. Lastly, the cost for high-quality content that can be developed through influencers is at a much lower investment than traditional production costs.
And while this industry is still poised for growth (the latest pre-COVID figures estimated ad spend in this space would reach between $5 to $10 billion by 2022), there are still some cautionary considerations when working with influencers that marketers need to remember. Because content is at the mercy of influencers, brands need to be cognizant of the content influencers are posting. In a time with heightened sensitivities, human perception will have a huge impact on the success of influencer efforts during this time. The last thing any marketer wants is for an influencer to get backlash on the content they are posting, or how they run their operation. We've seen some of this in recent months as the industry grapples with the future of influencers post-COVID, and listens to valid calls for more transparency into the influencer business model. In addition to thinking about industry and consumer sentiment, it is also important that marketers select influencers who complement the brand. A lack of alignment will likely mean followers won't be receptive to the message.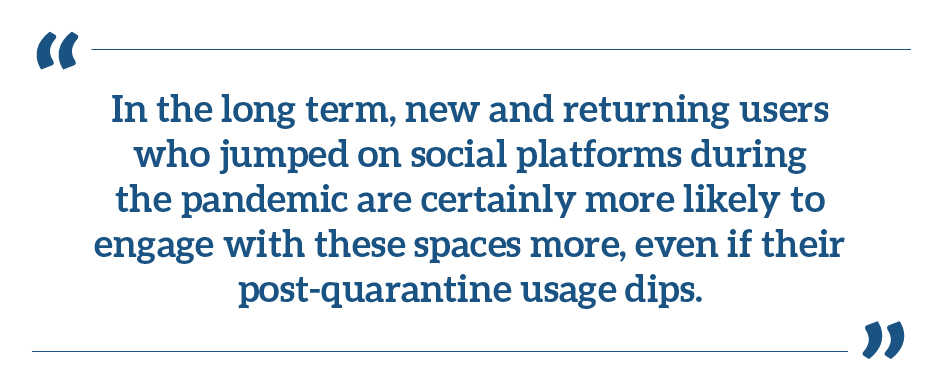 SO WHAT'S NEXT? DO WE ANTICIPATE CURRENT TRENDS TO CARRY FORWARD ACROSS ALL PLATFORMS?
As social distancing and state mandates continue to ease up, it can be assumed that there will be a dip in social usage across the board. Consumers, itching for normalcy, will resume their previous routines and prioritize other needs before social media. Although consumers may spend less time on social media, social networks will continue to enhance their capabilities and launch new products to drive traffic to the platform and stay competitive.
One trend that will continue in a big way is video. Video has become more effective than ever and, based on developments seen these past few months, will remain at the forefront as social platforms continue to enhance product offerings. With that in mind, it should be kept on the radar and considered for future initiatives.
In the long term, new and returning users who jumped on social platforms during the pandemic (such as older TikTok users) are certainly more likely to engage with these spaces more, even if their post-quarantine usage dips. The platform enhancements being made now, like Facebook's Messenger Rooms or updates to IGTV, are designed to aggressively capture and retain share into the rest of this year and beyond. With that in mind, marketers will need to stay on their toes in the social space for the foreseeable future. Performance and marketing efforts will undoubtedly continue to shift rapidly in this space for quite some time.