KSM's EVP, Business Strategy & Planning Allison Shaffron recently took the stage at Reuters 2023 Strategic Marketing summit alongside our partner Rick Miller from Big Chalk Analytics (BCA). Together, they shared insights on how the measurement space is evolving and which media channels are generating the highest ROI right now. Here's a recap of their top three takeaways: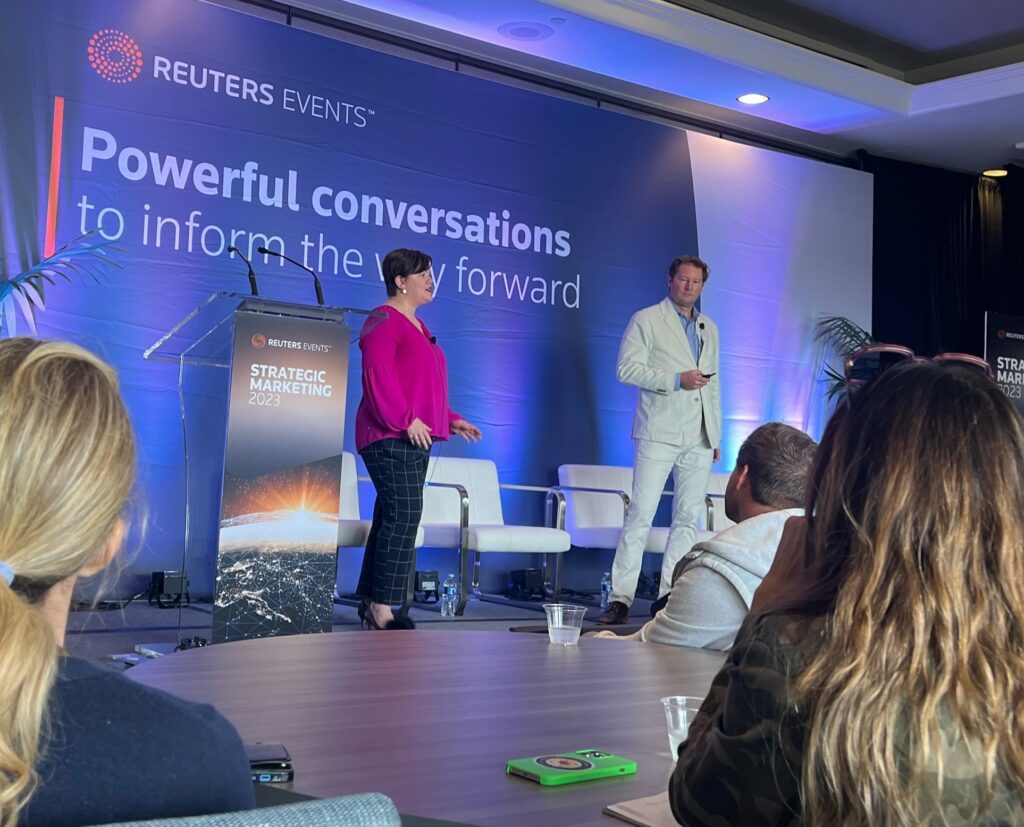 1. In the measurement world, what's "old" is new again:
Mix 2.0 is the way forward.
Back in the days of terrestrial dominance, marketing mix models (MMM) reigned supreme as the measurement method of choice. But the media math was complex, costly, and time consuming, and the outputs were too high-level. Then lift models came along, promising to help marketers do a better job of allocating media investment based upon predicted audience actions across channels. Unfortunately, those studies often missed base sales and led to overspending as they failed to account for nuances across test and control groups. Multi-Touch-Attribution (MTA) later swooped in to save the day, but presents its own set of tech stack and systems complexities, lower-funnel bias, and ongoing privacy issues that all showcase the ways MTA hasn't yet lived up to its promise.
Fast forward to today, and "Mix 2.0" is entering the ring to deliver intelligent ROI modeling that's powering smarter and more impactful media investment. This new approach builds upon the trusted time-series regression model of old by integrating new technology to deliver faster and cheaper insights. By layering in critical non-media variables (macroeconomic factors, product pricing, earned versus owned media, etc.) and fact-checking functionality, "Mix 2.0" delivers the most accurate ROI forecasting models to date. Through advanced mix modeling we can now more accurately predict the potential dollar return before a campaign is ever launched and put stronger investment guardrails in place as brands push to make every dollar count.
If you're unfamiliar with this new and improved mix, then there's never been a better time to dive back in.
2. Calculating and predicting true media ROI has never been easier, but it's still not the be-all and end-all.
As media measurement continues to evolve, determining the exact dollar return your brand is getting from its investment is now more accessible, for a wider variety of brands, than it has ever been. BCA and KSM work across a wide variety of consumer-facing brands; so, we've compiled weighted averages of ROI performance on some of the more common activation types. In our Reuters spotlight, BCA Partner Rick Miller shared the top 8 media channels that their data currently shows as delivering the highest ROI for marketers. The data takes into account more than 20 unique media tactics across more than 150 campaigns and $200MM in media spend.
Here are the benchmarks:

However, while it's tempting to re-prioritize media mixes based on this snapshot, marketers must keep in mind that ROI is only one piece to the marketing effectiveness puzzle. Additionally, these numbers are not category-specific, and don't account for brand, market, or campaign nuances that greatly influence ROI. Linear TV, OOH, and Print are also notably absent from the ranking above (partly because they're at a disadvantage in an analysis like this due to ongoing measurement shifts), yet they still play essential roles for brands that understand how a variety of channels work together to effectively deliver near-term conversions alongside long-term equity and loyalty plays.
Each channel is deployable in moments that matter, and the determinations for those channel integrations are situation-, audience-, and campaign-specific. Mix decisions must go beyond baseline channel ROI and take into account an audience's media diet, market, varied journeys, and the business' overarching goals in a holistic manner. So, the old logic still holds true here: for every tactic that builds brands, complement with a strong conversion driver with awesome payback. These channels feed off one another to drive conversions and business growth; keeping them in balance is key.
3. Decoding the noise will become even more critical on the media measurement road ahead.
As AI integrations and expanding automation churn through increasingly complex amounts of data sets, the human element behind insight development will continue to be the lynchpin that powers best-in-class adaptive media optimization.
You can have all the data you want from your marketing tech stack, but the power to interpret it in ways that drive better business outcomes is what marketers are really seeking. And with issues like identity, walled gardens, and regulation continuing to swirl, having an informed guide to help navigate these dynamics is critical. As we all dig deeper into the data, our key focus needs to remain on 1) what did we learn, 2) why did it happen, and 3) what are we going to do about it? The concept is a simple one, but the practice, within an increasingly complex array of platforms and data streams, is becoming an ever more difficult challenge. Luckily at KSM we've figured out how to simplify things to, as we like to say, "take the complicated out of the sophisticated." Connect with us to find out how.