Podcasting has officially become a mainstream audio medium. According to Edison's 2019 Infinite Dial report, 51% of Americans have listened to a podcast in 2019. In terms of hard numbers, there are currently over 700,000 podcasts that together produce a library of 29 million episodes, and Edison Research estimates that 73 million people tune in monthly, putting podcast listenership on par with streaming music. However despite recent audience growth, podcasts only made about $400 million from ads in 2018, while ad-based streaming music made well over $1 billion. Add to that the fact that podcast reach still lags behind terrestrial radio, the latter of which enjoys 92% weekly reach across U.S. households, and it's clear that there's plenty of ground left to gain. But the future looks bright, with industry forecasts predicting that podcast ad spend will increase to $1 billion by 2021 and audience growth will continue to accelerate. This massive opportunity on the horizon warrants a deeper dive into the space by answering a few key questions:
What's the current state of podcasting and who are the big players?

How have measurement and discoverability recently evolved?

What should savvy advertisers watch for in the coming years?
Current State of Podcasting Ads
A podcast ad typically runs between 10 and 90 seconds. It can come in at the start of the episode (pre-roll), during the episode (mid-roll), or at the end of the episode (post-roll). Host-read ads have long served as the gold standard for podcasting. These "live reads" are an advertisement delivered natively within the content and fabric of a podcast, communicated conversationally by the host. They enable the ads to seem like another segment instead of a paid endorsement, which has been one of the critical benefits to brands advertising in the podcasting space.
As advertising demand increased over the last few years, many podcast hosting companies began offering the ability to air two different types of produced ads. "Baked In" (BI) ads are recorded at the same time as the episode and are woven in as part of the fabric of the show. BI ads are permanently part of the episode, so everyone who downloads the episode hears the same ad for the life of the podcast. These ads are ideal for branding campaigns looking for an always-on approach. "Dynamically Inserted" (DI) ads, on the other hand, are not included in the original episode recording, but are instead inserted when a listener downloads the episode. DI ads allow the advertiser to target podcasts specifically based on timing, content, daypart, geographic location, and more.
Like other audio formats, pricing for podcasts can vary significantly depending on a show's popularity. CPM rates can range from $18 to $50, equating to anywhere from $200 per episode to upwards of $25,000 per episode spot.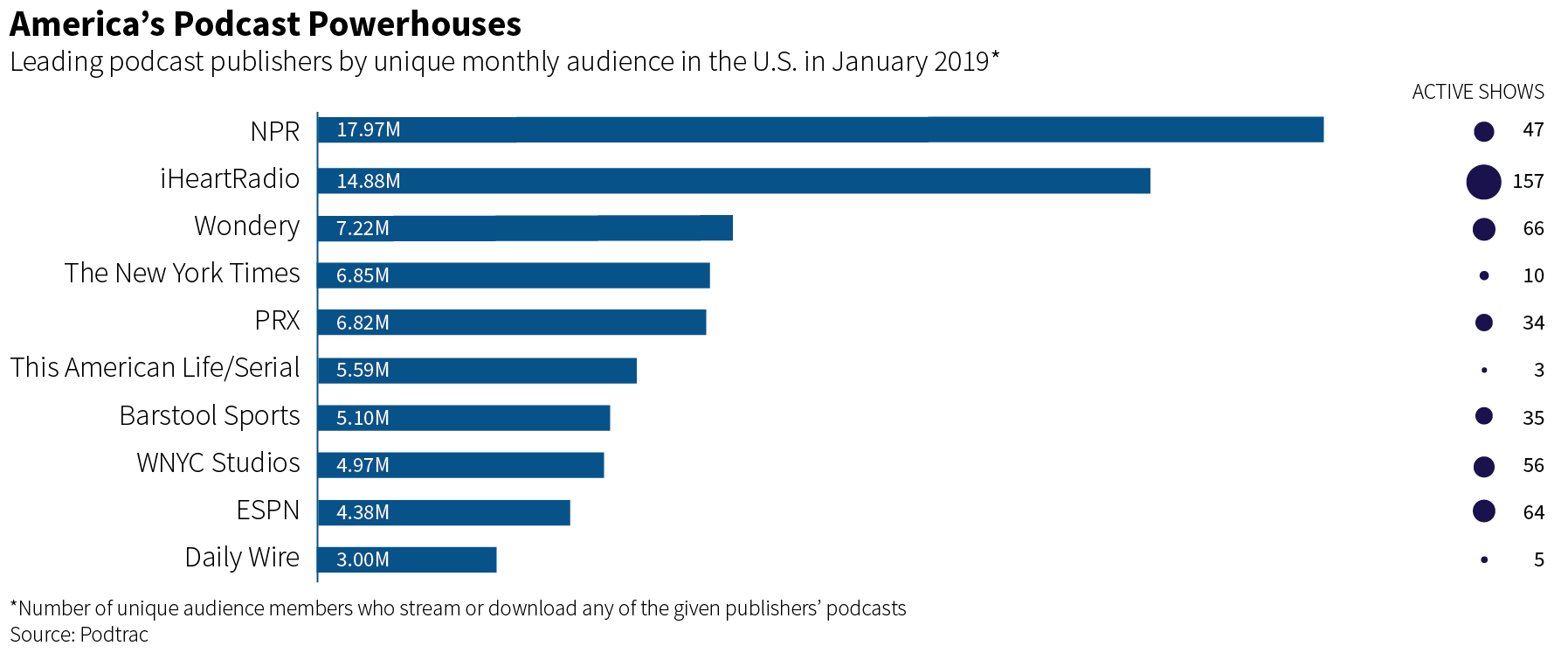 The Major Players: Mergers, Acquisitions, and Bandwagon Jumpers
Which podcast currently holds the top spot in the podcasting world? In terms of engagement, NPR has the highest listenership with just under 18 million monthly listeners and 47 active shows. But on the streaming and tech end of things, big changes are at hand.
Last year, iHeartMedia acquired one of the nation's largest podcast publishers, Stuff Media, for $55 million. With Stuff Media's more than 30 brands, including Stuff You Should Know, Stuff You Missed in History Class, and Atlanta Monster, the publisher has more than 61 million global downloads and streams. The acquisition thrust iHeart into one of the top spots in the podcasting space.
These marriages between traditional and newer media entities have opened up cross-pollination, cross-promotion, and monetization opportunities. For example, actress and podcaster Anna Faris, part of the iHeartMedia Podcast Network, was given her own one-hour radio show on 30 company-owned adult contemporary and contemporary hit radio stations. The show features Faris playing music and dispensing relationship advice with clips interspersed from her weekly Unqualified podcast. This type of cross-promotion has helped extend the sponsor messaging beyond just a podcast, which can have a relatively small audience, to something huge that hits the masses (iHeart has 850 radio stations and 120 million registered users on its streaming app).
Eager to make its mark on the podcasting arena as well, Spotify spent more than $300 million to acquire both Gimlet Media (the maker of Reply All and other popular shows) and Anchor (the company behind an app that allows anyone to easily create their own podcasts). Gimlet will remain intact and operate as a studio under the Spotify parent company, and the acquisition of Anchor will provide Spotify with massive creative tools for a new wave of podcasters on their platform. This puts Spotify in the content creation business for the first time. Spotify's large customer base, which currently includes 96 million paying customers and a total of 207 million users, is now in the unique position to service both iOS and Android users and convert a portion of their massive pool of existing music listeners to become podcast fans. And if they're able to leverage Gimlet's popularity and its exclusive content, Spotify has a chance to convert even existing podcast fans who have already grown accustomed to another podcast app. Spotify isn't finished with podcast-related acquisitions either. The company is looking to spend up to $500 million this year to bolster its podcasting business. Giving users the ability to create their own podcasts, along with investing in exclusive content creation, will play a big part in Spotify's future podcast strategy.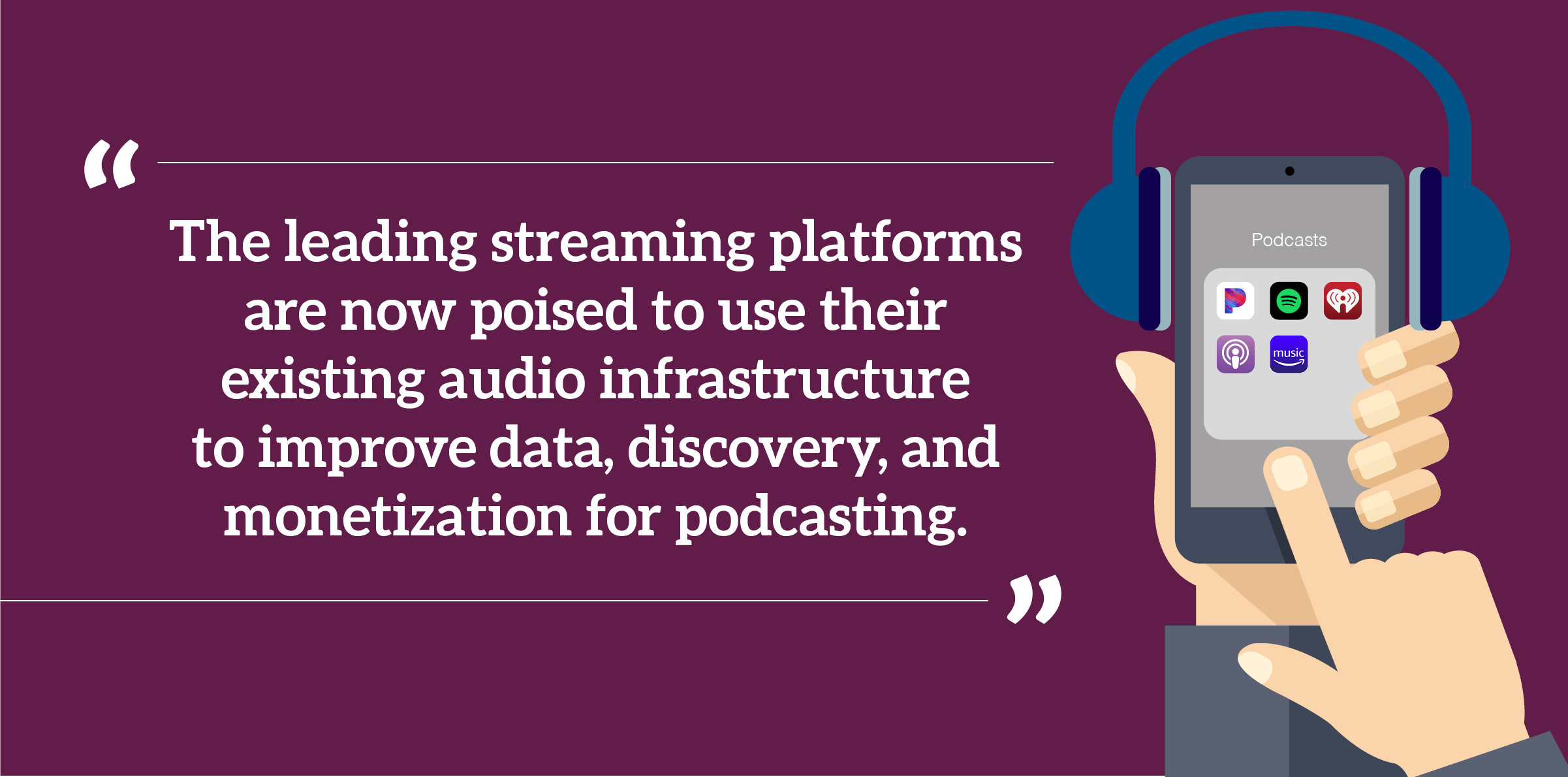 Pandora also recently announced that it would make 22 of SiriusXM's talk shows available as streamed podcasts on their platform. Participating shows feature Kevin Hart, Andy Cohen, Ricky Gervais, Jenny McCarthy, and Hoda Kotb. This content has the potential to reach more than 100 million audio listeners and subscribers of Pandora and SiriusXM, which represents a win for both parties. Unlike Spotify and iHeart, Pandora gets a huge infusion of quality podcasts without having to buy content producers. In return, SiriusXM gets audience extension by repurposing their existing core-satellite-service content.
In light of all this activity in the space, one thing is clear: the leading streaming platforms are now poised to use their existing audio infrastructure to improve data, discoverability, and monetization for podcasting. Through mergers and consolidations, cross-promotion, and more advanced recommendation capabilities, these streaming platforms are in a race to compete with leading podcast distributor Apple (who ingeniously preloaded its iOS Podcasts app on all iPhones). Beyond competitive considerations, these shifts are sizeable enough that they have the potential to bring a second golden age of audio leading into 2020.
How Tech Upgrades Are Impacting Measurement, Discoverability, & Prediction
Historically, measurement and discoverability have been the biggest issues within the podcasting industry. The current standard measurement for podcasts is Unique Downloads (the number of unique files that were downloaded, partial and complete, for a given episode). The biggest problem for advertisers has been that these details are only available within the confines of each individual listening platform's analytics dashboard. That's why metrics like Apple "devices" can't be compared to Spotify "users" to create a broader picture, but advertisers can get some insights about listen-through rates from within Apple Podcasts, and user demos from Spotify's podcasting dashboard. 
To streamline the process, the Remote Audio Data (RAD) measurement system was developed in December of 2018. When a listener uses any app with RAD support and the app encounters a marker, it sends back an anonymized bit of data to an analytics URL embedded in the marker. The publisher can then use that data to get holistic listening statistics across all devices, making it easier to compare apples to apples for any podcast in the industry. NPR's flagship app, NPR One, has already integrated the code and some of the biggest publishers and hosting services in podcasting have committed to implementation throughout 2019. This will bring advertisers a much more complete view of measurement metrics across disparate platforms.
With Pandora's entrance, Spotify's continued growth, and iHeart's ongoing investment in podcasting, we are likely to see even more new listener growth occurring on large, audio-focused platforms. Between better curation and discovery, a more reliable listener experience, and better support, music streaming platforms will lead the charge in bringing the next 50 million weekly listeners to the medium.
Pandora's Podcast Genome Project and Spotify's Netflix-style "if you like this, then…" algorithms will also help users find new content that is unique to their tastes. Their strong, cross-platform apps will help remove the serious roadblock to distribution that can inhibit people who have yet to discover podcasting. All said, these tech upgrades are poised to accelerate the popularity of podcasts in big ways over the coming years.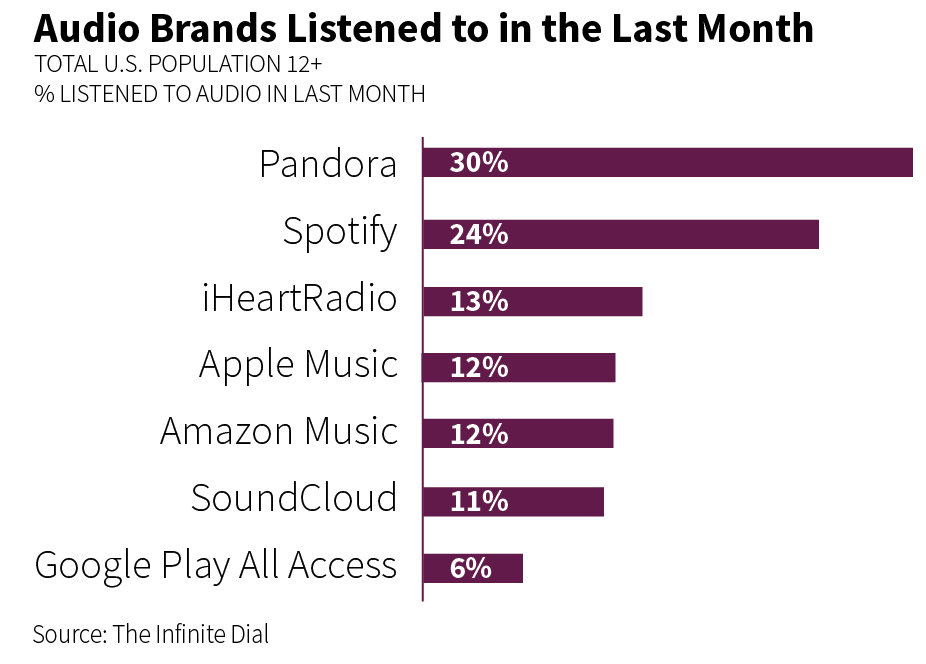 What Savvy Brands Should Watch For
While podcasting has already experienced tremendous growth, the real opportunity to bring the full potential of the medium to the mainstream still lies ahead. With the expected increase in audience size, the industry will likely see a plethora of new monetization opportunities. Expect continued consolidation and cross-pollination in the space as companies compete for scale to attract brand advertisers. As scale, audience, and advertiser interest grows, the ad formats and creative messaging will need to evolve. 
Here are five things that brands need to consider as they reanalyze the podcasting space:
Local will play a bigger factor in 2020: Host reads will likely remain the gold standard for national campaigns, and most local podcast plans will continue to be placed as baked-in or dynamically-inserted ads in top markets. However, due to industry growth, expect to see smaller markets provide scale in 2020. Geographically-targeted podcasting plans will move beyond availability in the top 10 markets. Larger publishers (PodcastOne, Megaphone, NPR, Market Enginuity, etc.) have significant scale in the top 30 markets. In cases where a client is purchasing multiple podcasts, they can successfully scale campaigns in all DMAs. Spotify and Midroll are still currently national plays only, but are working to incorporate geo location by the end of 2019. With shifts in the marketplace availability, expect to see more test-and-learn opportunities regarding timing and formats. Advertisers are likely to experiment with windowing (time-based early releases), bonus content, "minisodes" and other additional ways to monetize podcasts beyond 60-second advertising. The local push should also encourage advertisers to continue expanding more creative and authentic messaging that aligns with timely events in a target market.

Podcast ads will continue evolving from direct response into brand awareness: Advertisers should recognize that there are many campaign options beyond simple direct response ads for their campaigns. Companies are seeing the value in branded content and brand awareness ads, which allow them the ability to engage one-on-one with their target audience according to lifestyle and interests, all to build a strong sense of credibility and trust. Moving into 2020, expect to see more and more sponsors diversifying to brand awareness ads and branded content campaigns.

Celebrity power and crossover content will drive more listeners:

With Anna Faris, Dax Shepard, Conan O'Brien, Amy Schumer, and Will Ferrell as Ron Burgundy all making shows this year, it is likely that podcasts will become a stronger creative draw for A-list celebrity talent. More live shows, tours, and podcast festivals will pop up all over the place. Additionally, programs like Dirty John and Homecoming are creating crossover from podcasting to Hollywood. With the adoption of wider audiences, expect to see mass appeal formats like reality, soap operas, and game shows become commonplace.

Streaming apps will continue to elevate our podcasting experience: Throughout the year, keep watch to see how Spotify (with their user-generated playlists and discovery, both well-loved features of their music service) and Pandora (with its massive recommendation engine) further evolve in this space. Their added focus on podcasts has been met favorably by the podcasting community, who are mostly tired of Apple's near-monopoly and lack of innovation on their app. Hopefully, podcast apps (Apple included) will rise to the challenge and surprise everyone with new features that improve or enhance the podcast listening experience in ways not yet even considered.

Death by automation: It is an exciting time for audio, but with increased industry demand will come the need for faster, easier, and cheaper ad production. While dynamically-inserted ads and programmatic buying are making it easier for advertisers to invest, it is important that podcasting platforms, creators, and advertisers continue to maintain the very intimacy (that monetizable magic) that bolstered podcasting's impressive growth in the first place: the host-listener relationship and the fact that audiences view podcast ads as part of the content they're consuming. Ads incompatible with podcasting's unique tone or style  risk alienating the audience and harming an advertiser's brand. While only a small percentage of podcasting ads were repurposed radio commercials in 2018, a further shift to the radio-style, pre-produced, "who-can-shout-louder" ad style in the space is sure to hinder a second golden age of audio.