While the targeting capabilities are exciting, we have a lot of work to do on buying and measurement practices.
As the digital landscape has increased its scope, and viewership accessed through a digital device has become the norm, fragmentation remains a daunting issue in the buying landscape. For many years, an OTT buy was relegated solely to the national space due to unstable viewership on a local level. As audiences grow and subscription levels to at least one streaming hub (such as Hulu, Netflix, or Amazon Prime) have surpassed 50 percent of U.S. households, local OTT impact is coming into its own. At least one TV-connected device is now present in 67 percent of U.S. homes, making penetration less of an issue and highlighting strategic reach as the new challenge.
The local space will always hold great importance for advertisers, and video is an essential aspect of media usage for the majority of target audiences. As such, local OTT's impact will only increase as adoption and time spent viewing digitally continues to rise. The vast majority of KSM's local TV buys include a complementary OTT schedule, and our efforts to pursue appropriate monetization and measurement in the space are ongoing.
Marketers use online video for two primary purposes in today's landscape (or a combination thereof):
As an extension of a traditional demo or advanced-targeted TV buy to fill reach gaps in today's TV viewing marketplace.
As part of a standalone, precision-targeted digital buy with a narrower audience focus.
The two strategies require vastly different budget levels and are executed with disparate lead generation or awareness goals. Online video's superior targeting capabilities alongside its detailed measurement and trackability potential make it worth a higher investment for a higher return. But for general products with broad targets, online video reach extensions are often used simply to connect with audiences that are reducing or removing traditional TV viewing from their weekly routines.
Reach extension schedules currently provide the clearest side-by-side comparison with the traditional TV landscape. And as with any platform gaining maturity, the local OTT ad space has some obstacles to overcome. It is no surprise that the current transaction process relies on a mix of digital and linear TV monetization, but have we as an industry explored enough alternative monetization routes to sufficiently encourage growth?
The answer to that is unclear, and two key issues remain at large:
Online video placement value
Local pricing benchmarking
Agencies and advertisers must continue to work on evolving the ad buying process to prepare for continued audience growth and eventual migration of all audiences to digital video content. The digital platform may carry very similar content to linear television, but its one-to-one versus one-to-many format and its relatively young tenure on the ad scene (compared to TV) present unique questions.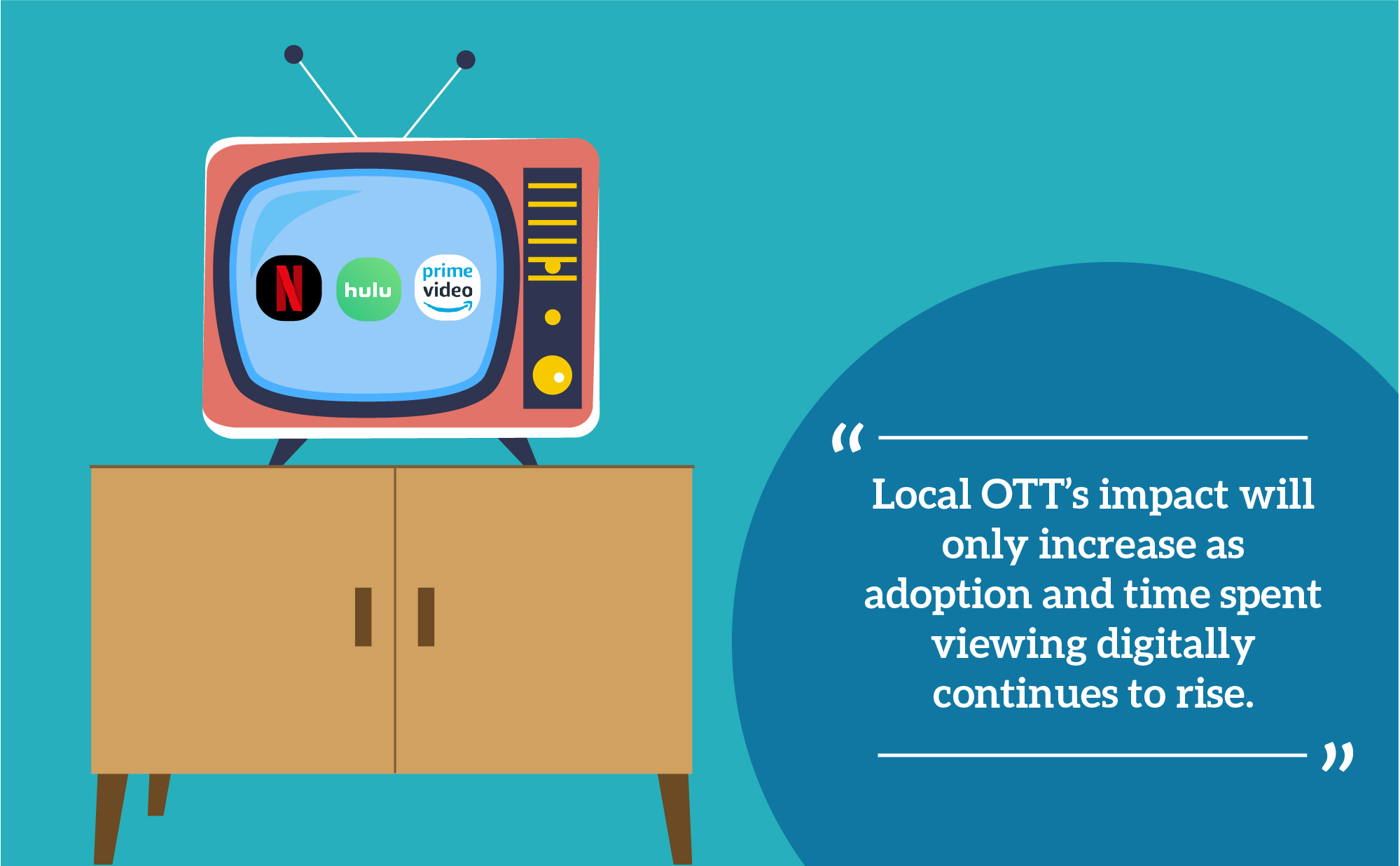 Are streaming schedules priced in line with their value?
To dig deeper on this, let's analyze two factors—cost and reach.
Cost: Current local streaming CPMs reflect prime linear TV pricing. As scale increases, will these CPMs be sustainable in the long term? Countless studies have identified the high value of a full-length, mid-roll spot compared to auto-play or pre-roll spots placed in short-form content. In this aspect, OTT operates similarly to traditional TV and for that quality link, advertisers are willing to pay a premium. However, in head-to-head comparisons, streaming ads have delivered more impact than linear TV ads (note: "impact" here equates to "memorable" and/or "engaging," not necessarily sales-driving). This is primarily due to the smaller online ad loads compared to the relative clutter on linear networks. As ad loads increase in the OTT space and as investment continues to follow these growing digital audiences, it remains to be seen whether streaming value will retain its premium pricing.
Reach: Streaming video carries about 30 percent of the reach of linear video, depending on the target. TV has retained its longstanding position as the most lucrative single-medium ad space in the industry in large part because of its reach capabilities. Most target audiences still watch some form of live TV, even as we see ratings diminish with every passing year. However, the OTT space is marked by fragmentation; viewership continues to be locked behind an increasing number of paywalls, many of them with ad-free subscription options. Limited high-quality inventory means higher prices, as is evidenced by continued investment in linear TV. However, the future of OTT pricing relies on constantly evolving factors such as the number of content providers in the space and whether subscription models or ad-free platforms will dominate. Ultimately, pricing may have to vary depending on the type of OTT subscription and the value of the audience behind the "wall."  The clearly superior targetability of online video helps to overcome some of its reach issues; but as the industry sees TV's reach-driving efficiencies slip away along with its audiences, reach concerns will impact OTT video. Engaging targets while generating little waste is the online world's powerful contribution to the ad mix. But doing it at scale in online video, and within a reasonable investment range, may make for some interesting challenges over the next few years.
Ultimately, pricing may have to vary depending on the type of OTT subscription and the value of the audience behind the "wall."
Is every geography worth the same price?
Should different geographies command different pricing structures? Unlike in the TV environment, ad buyers negotiate a single CPM for all markets in a local OTT buy. Aggregators like Premion and Gamut directly source their inventory, ensuring quality content, and charge a single price regardless of geography. Traditionally, television audiences across the country have carried varying CPMs depending on the "value" of their audiences and the resulting advertiser demand. Thus far, local OTT buys have not carried diverse CPMs because lack of scale often required aggregating more than one market's audience to create an impactful schedule. As streaming audiences have grown, strong local OTT buys are feasible, but cost structures have remained the same—even as Nielsen's penetration and usage studies have shown that varying markets exhibit diverse streaming behaviors.
Bottom Line
OTT is a major player in today's media mix. It has matured enough to be taken seriously on a local level, and we need to take monetization seriously. KSM efforts to move the industry forward continue to include negotiation and pricing experimentation with new platforms. While we do not believe streaming cost analysis can be based entirely on the historical linear model, using old models to help inform gaps in new format valuation is essential. The OTT landscape is poised for certain change over the next two years, and it's not too early to begin setting standards beyond the stagnant CPMs of the digital world and the one-to-many model of the traditional world.
As Nielsen and Comscore lead the charge for measurement maturation in the video space, followed by countless other vendors and technologies attempting to make sense of consumer viewership, complexity will continue to reign. In upcoming POVs, we'll dive deeper into a range of OTT issues including: reach and frequency in the new video world; shifting roles for TV and online video in campaign strategy; and deciphering what consumer video usage means in terms of subscriptions, viewing time, and device access as adoption solidifies.