What is a CDP?
A CDP, or consumer data platform, is an open database for customer information. It centralizes customer data from all sources, unifies this data into customer profiles, and then makes this data available to other systems for marketing campaigns, customer service, and all customer experience initiatives. It differs from some other common marketing technologies and platforms because it is not there to create another database or source of customer data. Rather, its purpose is to synchronize customer data for personalization and journey optimization across all possible touchpoints.
Some things to know about CDPs:
Typically managed by a marketer and not an IT analyst (though involvement from IT is still needed)
Focused on both known customers or prospects who have opted in to something, and anonymous visitors to your site
Unifies customer data from disparate sources, linking identity, behavior, purchase, and demographics together in a single record
Activates data—rather than just storing it for later use—by creating actionable customer segments
Supports real-time data streaming to take immediate action such as enabling site or app personalization or trigger emails
Creates a persistent and unified customer database
In summary: a CDP collects all interactions a user has with a brand, aggregates them into one view of the user and allows brands to adjust their marketing initiatives based on these historical interactions. In addition, the CDP provides data back to the brand on how these interactions have changed over time.


How is it different from a Data Management Platform (DMP)?
Clients often ask us, "Should we leverage a CDP or a DMP and what is the difference?" DMPs and CDPs are complementary solutions. Some of the largest DMPs right now are Oracle DMP, Adobe Audience Manager, Salesforce DMP, Lotame DMP, and eXelate (owned by Nielsen), among many others. For some brands, having both as part of a comprehensive technology stack may be necessary. In other instances, choosing one or the other as the right technology to invest in is a necessary decision, and understanding the difference between the two is crucial in making the right choice.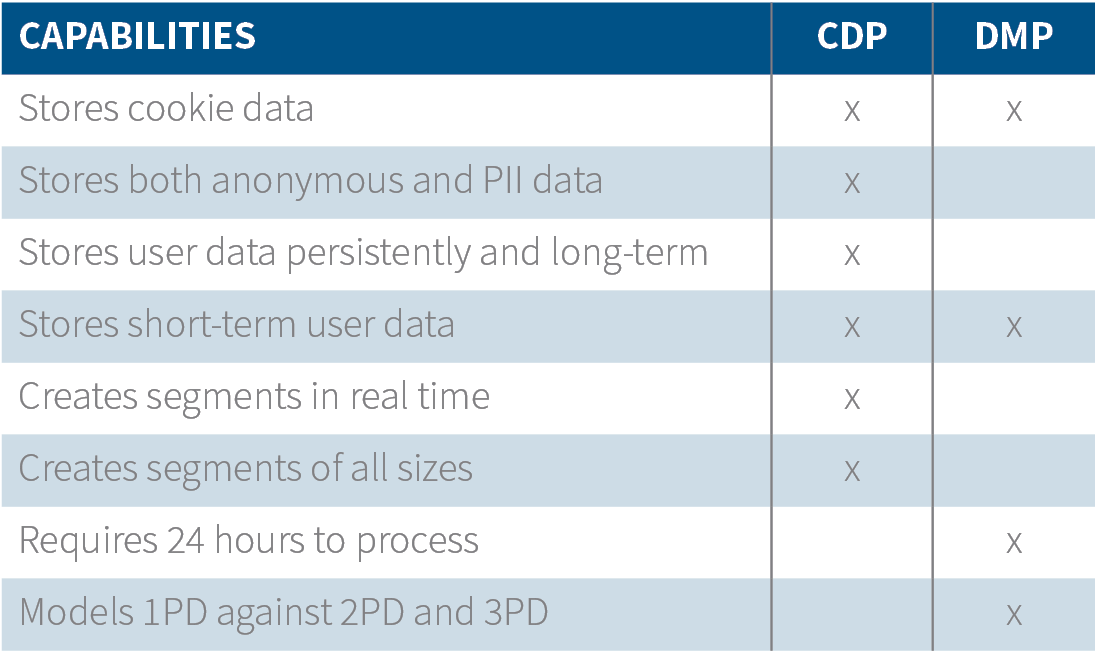 In essence, a CDP is great for activating against first-party data, while a DMP is great for developing look-a-like audiences.
What is KSM's take on CDPs?
CDPs can be incredibly valuable to some brands, while others may not find any incremental value to them. It is important to think about your organization's category, access to first-party data, and available resources in order to evaluate the cost and benefit of a CDP. This will help determine if the investment would be worthwhile.
In order to succeed, your team and organization needs to be all-in on the CDP, with cross-department buy in. Everyone needs to consider how it can be the cornerstone of a marketing strategy, and you need to ensure the IT team is available to assist in implementation, while also being ready to leverage performance data in order to make strategic decisions based on how customer interactions with your brand have changed over time.

Future of the space
While many martech solutions come and go, we believe CDPs are here to stay. There continues to be strong growth in the category, with some analysts pegging annual market growth at nearly 30% and estimating that total market value will reach $3.3 billion by 2023. The battles for dominance are certainly heating up. Here are two key elements to watch in the coming years:
Market and Technology Consolidation:
With more than 40 CDP providers now vying for a slice of the market pie, additional consolidations and acquisitions are bound to be on the horizon. This is especially true as more heavyweights such as Adobe and Salesforce build out the capabilities to compete against current players in the space such as mParticle, Segment, Exponea, Ensighten, Tealium, and Oracle.
Adobe's and Salesforce's recent announcements that they are building out CDPs are especially noteworthy since both tech giants will now each have a CRM, DMP, and CDP solution. Our prediction is that these disparate systems will slowly integrate into one central hub of data. Marketers and consumers alike are not fans of fragmentation, and whenever the opportunity exists to merge solutions into a more holistic platform, the market will often move in that direction. After all, that's one of the main reasons CDPs came into existence in the first place—to unify marketers' views of consumer journeys and experiences.
Data Regulation:
By now, nearly every marketer knows the basics of the General Data Protection Regulation (GDPR), and has the California Consumer Privacy Act (CCPA) on their radar. But with U.S. legislators facing increased pressure to pass a nationwide framework for modern data privacy regulation, data management needs are certain to become more complicated for marketers in the coming years. CDPs will play an increasingly important role in this development as brands will have to rely more heavily on technologies that help them manage their customer data and maintain privacy.
That said, CDPs certainly aren't a magic bullet to help every brand tackle data privacy issues. As mentioned, for those businesses that don't handle a wealth of first-party data, or ones that already operate in highly-regulated industries, a CDP (in its current state) isn't likely to be the right solution.
How to get started?
Reach out to a member of the KSM team if you are interested in learning more about CDPs and if they are right for your business. We will evaluate your needs and provide a customized POV.