Implications of the 2020 U.S. Elections and Tokyo Summer Olympics
2020 will be a unique year for brands with two marquee events impacting the national conversation and the media landscape; the Tokyo Summer Olympics and the 2020 U.S. General Election. How brands orient themselves within, alongside, or pivot away from these events can give each a unique foothold in the marketplace.
The 2020 U.S. Election Cycle
With political advertising occurring during most of the year (February-June for primaries, and the majority of general election spend ramping up between August and November 3rd), 2020 political candidate ad spend is anticipated to reach six billion dollars (source: Kantar media as sited by Media post, June 27, 2019). Other political entities such as PACs will only add to that number.
VIDEO
Linear video is expected to account for 75% of total candidate spend. Local television will be more heavily impacted than national efforts, and swing states will be hit particularly hard when compared to traditionally blue or red states. The map below predicts political spend levels for both the primary and general elections. For several states, spending amounts may change between the primary and the general. Using these nuances to choose the right time and place to invest in messaging can be crucial to being heard instead of drowned out.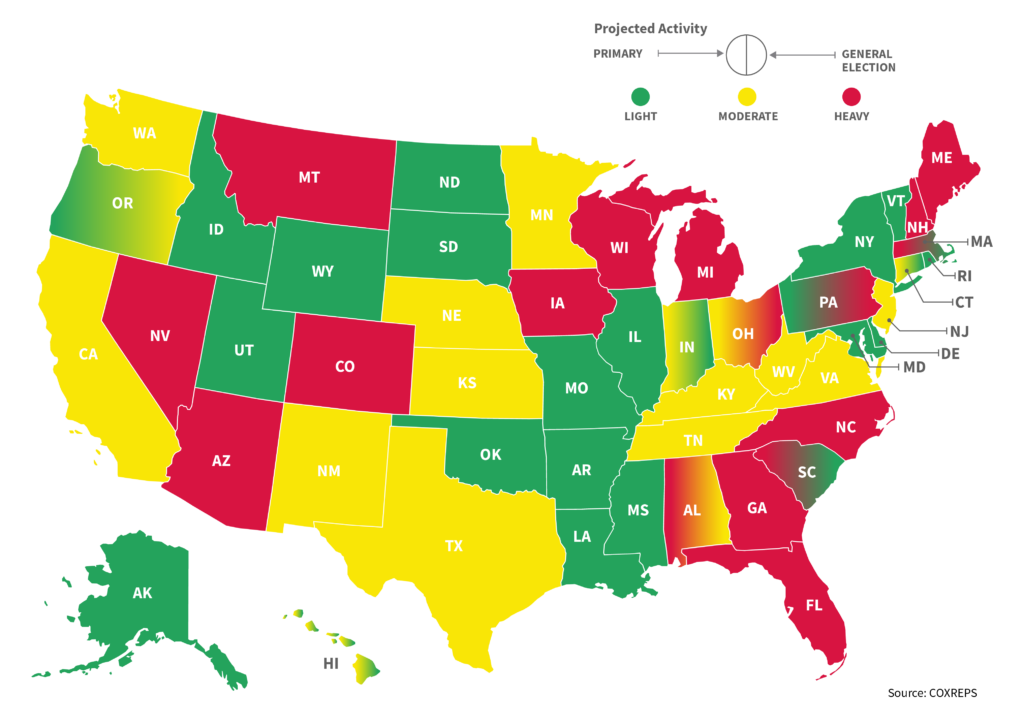 Map note: projected activity levels are for the times near the primaries and general election in each state, not the entire year.
During political windows, stations must adhere to LUR (lowest unit rate) for legally-qualified political candidates in the 45 days before a primary and the 60 days before a general election. Candidates must receive the lowest rate for a spot then running on the station within any class of advertising time and daypart. This can increase rates and schedule volatility for brands, even for schedules already secured in the marketplace. There are a few ways brands can ease the impact of political dollars on the local video and audio market:
Place your schedules in advance of the political year or windows whenever possible to adhere to CPP goals. Stations must honor and make good spots based on the pre-established CPP for advertisers who buy upfront.
Purchase strategic dayparts and contextual alignment. Avoid local news and other dayparts that are likely to be highly impacted by political spend.
Buy nationally if it is an option for your brand. National/network video inventory typically experiences less disruption.
Shift linear video dollars into audio or digital video formats like YouTube, programmatic video, OTT or CTV. Be aware that some of these strategies will sell out as we get closer to the election; YouTube expects the top 10-20 DMAS to sell out, so getting in early is key.
SOCIAL MEDIA & PROGRAMMATIC
Avoiding [the] clutter allows brands to more easily maintain cost goals versus having to bid up in order to maintain SOV in the marketplace. 
Social media may as well have been the 3rd candidate running in the 2016 U.S. general election for all the impact it had and the publicity it garnered. The Facebook and Cambridge Analytica scandal shone a light on data and targeting issues, and recent questions about responsibility of social media companies to filter advertising content based on factual evidence have both led to a number of new guidelines that will impact where and how advertisers can deploy political or political-adjacent advertising for 2020.
On Facebook, advertisers who reference social issues, elections, and/or politics must place "paid for by" disclaimers on their ads. The guidelines for who exactly falls inside these categories has not remained stagnant. We recommend that brands work with their agencies and platform reps to be sure they are familiar with these guidelines on content, and are intentional about whether they want to be inside or outside of that political conversation. If a brand's ad does fall inside those political boundaries, it's important to allow time to register as a political entity with Facebook and to get ad approval before your campaign start date.
Twitter has completely banned political advertising from its platform. For brands that are cause-based advertisers, or advertisers that educate, raise awareness, and/or call for people to act in connection with civic engagement, economic growth, environmental stewardship, or social equity causes, this decision means registering with Twitter and confirming that you are not a political entity. These standards could encompass healthcare, pharma, utility, energy, wellness, and non-for-profit brands. Again, it's important to work with your agency and/or platform rep to allow the time for this registration.
For brands that wish to avoid the political conversation, being strategic about social placement and digital audience buying is key. Brands can blacklist news and political content on social and programmatic channels. Avoiding this clutter allows brands to more easily maintain cost goals versus having to bid up in order to maintain SOV in the marketplace. Additionally, as with any campaign, monitoring placement to maintain brand safety and avoid controversy is crucial.
5 KEY TAKEAWAYS FOR ELECTION STRATEGY:
Linear TV ad spend still maintains the lion share of political ad spend. The greatest disruption will happen in swing states at a local level. Buying in this space will call for a more specific strategy than non-election years.
National TV and OTT/CTV/OLV can be used to expand video strategy and avoid some of the clutter from political advertisers
Whether buying linear TV or OTT/CTV/OLV, locking in buys as soon as possible will help keep costs down.
Social platform guidelines surrounding political advertising are changing rapidly. It's important to work with your agency and/or platform rep to keep on top of these changes.
Properly registering your brand within social platforms will help to ensure smoother campaign delivery.
The 2020 Tokyo Olympics
Alignment with the Olympics in prime time can come with a price, and brands that wish to avoid the cost of entry and the brand clutter surrounding prime time have a wealth of other options.
It is expected that over 200 million Americans will tune in for the Tokyo Games, airing across many of the NBCU properties from Friday, July 24th through Sunday, August 9th. During the last three Olympics windows, linear TV ratings were overwhelmingly higher than other net averages, and NBCU expects to exceed $1.2Billion in ad sales during the 2020 Tokyo Olympics. The Olympics is a brand-safe, highly desired event for advertisers. Brands receive the Olympic "halo effect" of supporting the country, the athletes, and the Olympics event itself. However, alignment with the Olympics in prime time can come with a price, and brands that wish to avoid the cost of entry and the brand clutter surrounding prime time have a wealth of other options.
VIDEO
NBCU airs Olympic coverage outside of primetime events on NBC. Other dayparts, such as daytime and late fringe, will include Olympic content at a lower cost. Other programs such as local newscasts will provide segments that can be sponsored and will provide organic conversations surrounding the Olympic events. Other networks also carry different levels of coverage which may have a lower cost of entry.
EXPERIENTIAL
Brands can also tap into local networks and create experiences in their local market to make the Olympics feel a bit closer to home. Local viewing parties or "arenas," or family activity spaces sponsored by brands are creative executions that can resonate in unique and fun ways for consumers.
SOCIAL
We know that users are multitasking while watching the Olympics, typically accessing social on their mobile devices while they watch to engage in conversation. Brands can create their own conversations, or choose where to hop in on conversations already happening in real-time, avoiding hefty linear price tags.
Within Facebook, brands can target fans of a page, such as the NBC Olympics page, or specific athletes. This audience-buying approach is a more efficient way to reach the intended target. On Twitter, strategically using hashtags will insert the brand into ongoing conversations. Promoting tweets to people engaged in specific Olympic content before, during, and after a telecast allows brands to add frequency with audiences engaged in linear Olympic content without paying incremental premium for linear spots.
4 KEY TAKEAWAYS FOR OLYMPICS STRATEGY:
Linear Olympic in-game prime time spots will be most expensive.
Local networks can offer at-home integrations to make the Olympic experience more tangible for consumers.
Brands can take an audience buying approach by targeting fans of Olympic pages on Facebook.
Promoting Olympic tweets allows brands a frequency extension from linear buys to engage with multi-tasking Olympic audiences.
Find the Opportunity
While some ad space will certainly come at a premium in 2020, successful brands will find spaces in, around, and away from these big events to create meaningful conversations with consumers. Solidifying a 2020 strategy early and staying aware of the ongoing cultural conversations will help brands balance cost with return. A brand does not have to be the next big spender to have measurable messaging impact in a year as unique as 2020.
KSM Question and Prediction… Are the Olympics the new SuperBowl?
You watch the game, I came for the ads! In an age of global issues such as climate change and social ethics coming to the forefront, maybe it's not the craziest thing to predict a shift to viewing the Olympics as THE global event. With more eyes and advertiser focus, setting aside creative ad media budget for the BIG splash campaign around the Olympics might just be the way to connect with consumers and create the sought after "buzz" in the marketplace.