In January 2020, Google announced they would begin phasing out third-party cookies by 2022. Now, more than halfway through the year, the advertising industry is working to understand the answers to many pending questions about what this may mean for the future of digital advertising.
REMIND ME, WHAT ARE COOKIES AND HOW DO THEY WORK?
Cookies are an online tracking pixel stored in the user's browser. Cookies are browser- and site specific, meaning that Chrome and Safari cannot access each other's cookies, nor can Facebook and Amazon. There are two primary types of cookies, first-party and third-party:
First-party cookies are created by the domain the user is visiting. They are typically used by a website to improve the user experience, such as remembering what items you put in your shopping cart.
Cookies that are created by a domain other than the domain a user is currently on are referred to as

third-party cookies.

These cookies are often used for advertising purposes. Domains will place the third-party code onto their website for monetization or tracking purposes.
Google's announcement specifically focuses on the removal of third-party cookies.
SO WHY IS GOOGLE GETTING RID OF THIRD-PARTY COOKIES?
Cookies have been a part of computing since the early days, dating back to 1994. While this archaic technology has evolved over time, it has significant privacy concerns: users aren't always aware what data is being collected and with whom it is being shared. Although privacy has been a hot topic over the last few years, the rollout of GDPR and CCPA has amplified the need to evolve digital advertising accordingly.
Google isn't alone in their stance against cookies. Safari (ITP) and Firefox have already rolled out measures to block third-party cookies. However, with Chrome accounting for 64% of the marketplace, coupled with their deep ties to online advertising, this move has become the catalyst for industry change.
WHAT DOES A WORLD WITHOUT COOKIES LOOK LIKE?
The entire digital ecosystem will be impacted by the phasing out of third-party cookies. However, this will likely not be the end of digital advertising as we know it today, but rather the beginning of new technology that allows for consumer privacy and targeted digital marketing. Currently, the major players and organizations in the ad tech world are working to figure out the best solution.
A FEW NOTABLE APPROACHES INCLUDE:
Cohort targeting: Rather than targeting users 1:1, cohort targeting allows advertisers to target based on smaller groups that have similar habits, characteristics, and/or interests. By leveraging machine learning, the technology analyzes a user's internet behavior and assigns the user to a cohort for targeting.
Universal IDs: A universal ID is a framework used for matching users based on a unique identifier such as email address, phone number, or account number. Publishers have been leveraging Universal IDs for quite some time now to improve the user's experience on their website. This identifier is currently being leveraged for targeting purposes by many walled gardens, such as Facebook or Amazon. More and more publishers will likely begin requiring users to authenticate, or log-in, prior to content consumption as first-party data becomes increasingly more valuable. The challenge with Universal IDs as a replacement for cookies is that they are non-transferable by advertisers across the publisher "walls." However, many publishers and ad tech vendors are teaming up to link their data through identity graphs. While this workaround would rely on first-party cookies versus third-party cookies and allows advertisers to link users within the group, any publisher not within the group wouldn't be linked, thus breaking the tracking.
Google privacy sandbox: Google's privacy sandbox is an approach created by Google that provides the ad industry with a new way to rely on anonymized signals within the browser rather than cookies. This is done using a set of privacy-preserving APIs used for tracking purposes. This approach increases the role of the browser by having the browser ensure data is not shared without a user's permission, thus putting more control on the user than exists with cookies. These APIs would allow for targeting and conversion tracking and limit fraudulent traffic. At this time, Google is still testing and sourcing for feedback on how this is working for publishers, advertisers, and ad technology via GitHub.
So why are any of these cookieless solutions better for consumers from a privacy perspective? Because, whether relying on audience modeling for lookalike targeting, identity graphs that allow for anonymized audience IDs, or a stronger user permissions and data scrubbing role for web browsers, the path forward for tracking and measurement prevents direct third-party access to an individual's data while also putting more control in the hands of users about who accesses their information. Of course, it remains to be seen how consumer behavior and sentiment around privacy measures may change with this system-wide shift, but giving them more control while minimizing their risks in the marketplace is certainly a step in the right direction for solving the current data privacy conundrum.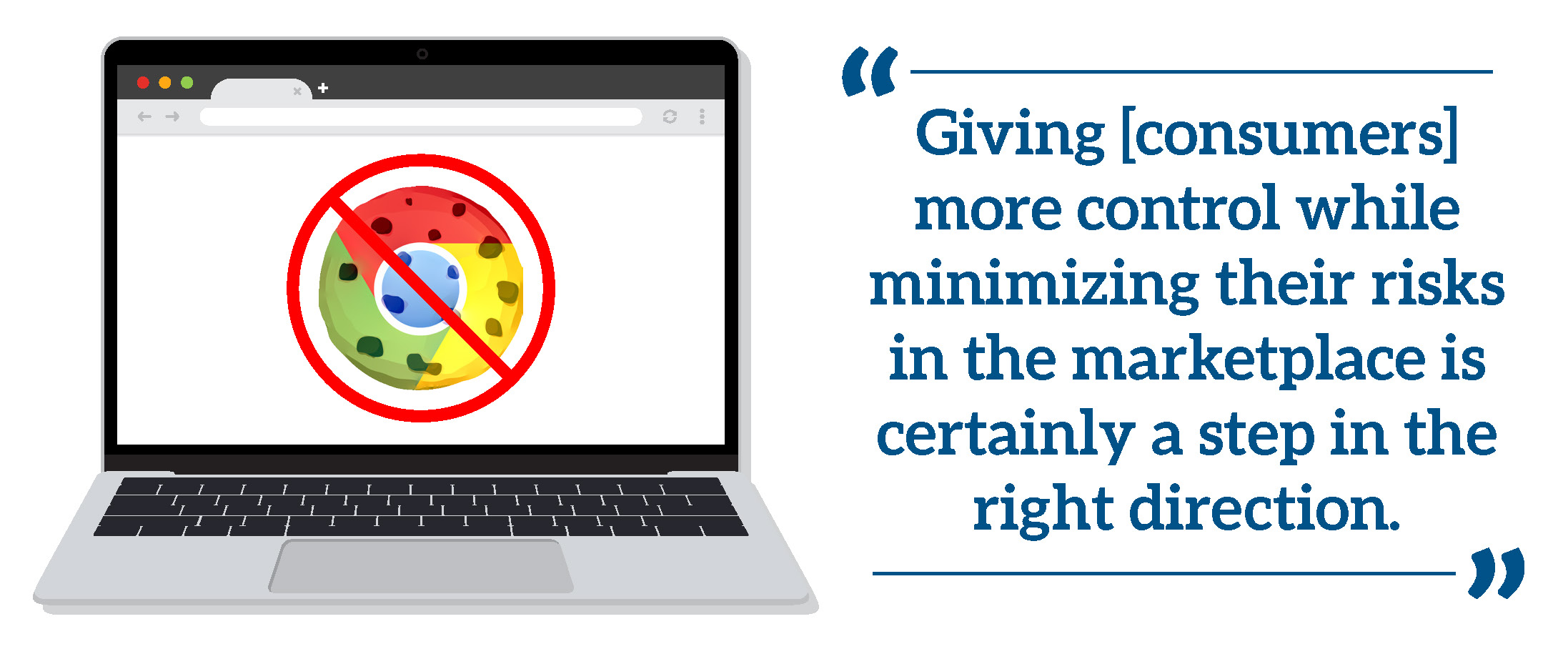 WILL THIS CHANGE THE WAY WE MEASURE CAMPAIGNS?
The move from third-party cookies will change the way we approach methodologies and assess campaign performance. A number of studies rely on cookies as a foundation for legacy methodologies. however, research and measurement companies are preparing for the change by revisiting their approaches and building out new products that will work in a cookieless future. Here are the biggest shifts that are on our radar:
Modeled approaches will become more popular: Models function without cookies, using aggregate data sets to tease out impact and the contribution of different channels and tactics. While models are not applicable in all circumstances, their function will not be impacted by changes in cookie policy, so we expect these methodologies to get more attention in the future.
Integrations will be more common: The majority of research and measurement partners we work with are pursuing direct integrations with publishers to enable the transfer of anonymized data. Connections with platforms like Google's privacy sandbox are now more commonplace and preserve the integrity of measurement while avoiding cookies and ensuring privacy. The drawback is that these agreements are negotiated individually with publishers, meaning that the share of a campaign covered by a research study may diminish. However, this is already a commonplace issue with walled garden publishers.
Panel quality becomes more important: Survey and panel-based approaches have seen decline in use over the last decade, but that trend may reverse with the reduced viability of cookies. This means that the quality and comprehensiveness of research panels for both sample- and survey-based measurement will become more critical than ever. Universal IDs and device graphs provide the opportunity to enhance panel quality as that space becomes more competitive once again.
Geo testing deserves another look: A/B or market testing typically requires more intensive set up and is harder to control for variables across test and control markets. However, given that cookies aren't required, it's likely that this low-cost approach will be more common in instances where clients' business data can be used to support this approach.
First-party data is incredibly important for brands; continuing to collect this information should be a big focus of any marketer's data enablement strategy moving forward.
WHAT SHOULD ADVERTISERS BE DOING NOW?
Currently, it is a bit of a wait and see for advertisers as the ad tech players begin to test out various options. However, more than ever, first-party data is incredibly important for brands; continuing to collect this information should be a big focus of any marketer's data enablement strategy moving forward.
WHAT IS KSM'S TAKE?
Change is inherent in the digital space as formats and technologies continue to evolve. Staying on top of trends and innovation to ensure effective marketing is business as usual at KSM. While the ways in which we can target and measure digital media may be changing, we believe the fundamental capabilities will likely remain intact. However, there will likely be an increased media allocation to contextual targeting, direct buys, and walled garden partnerships as the industry works through new kinds of tracking technology.
As for measurement, the process of assessing campaign impact will change, but the results will not. In fact, the developments with clean-room data environments (a place where two or more sets of anonymized data can be joined so that none of the parties can see any identifiable information) may facilitate more flexible and holistic measurement at some point in the future. Overall, as privacy regulations continue to move forward and there are pushes for federal regulation, we anticipate the ad tech world will continue to evolve and find the balance between consumer privacy that allows users to have more control over their data, and targeted, measurable media.