What the popular documentary got right—and wrong
What Is The Social Dilemma?
Streaming worldwide on Netflix, this documentary explores the dark side of technology, with a focus on social networking platforms. The film combines condemning interviews with a variety of former social platform technologists, researchers, and activists, weaving in fictional scenes of a family dealing with the negative effects of social media addiction. The film's overarching goal is to criticize these platforms and warn viewers about how social technology negatively impacts humanity.
The Mental Health Dilemma


The persuasive technology deployed by these platforms to keep users active and engaged makes us addicted to our devices. A study conducted by the American Journal of Epidemiology found that as social media usage increases, mental and physical health decrease.
The Democracy Dilemma


Social media advertising allows anyone to achieve massive reach, making it easy for some to spread false information and instigate political division. The New York Times reported that, within the past two years, the number of countries with fake political campaigns on social media has doubled.
The Discrimination Dilemma


Platforms pick up on the data signals we give them, using this to push through a larger amount of controversial content that incites hate and strengthens biases. A 2018 internal Facebook report revealed that its algorithm had steered 64% of people who are members of extremist groups on Facebook to join said group.
How Did We Get Here?
Social media sprouted a little over a decade ago, and today it seems almost a necessity. With the popularity of social media platforms increasing in the early 2000s, marketers began to adjust from simply looking for more followers and interaction with their pages to putting KPIs behind their digital campaigns.
The technology behind social media, as well as consumers' expectations, changed during this time period, with social media becoming more easily accessible via the wide adoption of smartphones. With more users on these social platforms, companies could gather copious amounts of data and turn it over to marketers for targeting. Marketers now saw more details on the value of each customer—with additional data proof that engaged customers are significantly more valuable than unengaged ones.
In the following years, data collection from social profiles continued to grow—resulting in the marketing capabilities we have today, where media buyers are able to do everything from efficiently putting out their message in front of a broad audience to homing in on a hyper-targeted group.
Where Are We Going?
The official website for the documentary urges viewers to act by starting conversations in their community, taking a Data Detox, joining the movement with the Center for Humane Technology, aiding research studies, and more. The public is acting, whether or not these media companies will. Although they say they will—and have been.

Facebook
The most-criticized platform by the documentary, this social media giant acknowledges past data privacy and misinformation issues but insists things have changed.
Interests:

Facebook users can see a list of "Interests" assigned to them in their ad preferences and remove them if desired. The company claims that, like Interests, their interface and algorithms are designed to maximize relevancy and enhance user experiences, not manipulate or take advantage.
Ad Library:

Facebook is taking steps toward transparency, from its ad preferences tab to an Ad Library containing all ads visible to all people, regardless of whether it appears in your own feed (from both sides of the political spectrum and everything in between).
2020 Election Research Project:

Last year, Facebook partnered with a team of independent researchers to investigate the impact of social media on U.S. elections. A sample of Facebook and Instagram users (selected to reflect the makeup of the U.S. population and of the two social sites) were invited to deactivate their accounts in September and took a pre-reactivation survey after the election. Others in the study completed a series of surveys about their political opinions and knowledge but maintained their accounts.A subset of this study's participants was invited to an additional study in which participants download software which collects data about the websites and apps they visit and use.Findings from the first study are expected to be published middle of this year, while little yet is known about the second study other than that its purpose of analyzing online behavior. In all cases, participation is voluntary and paid, and privacy disclaimers are upfront, clear and detailed; a refreshing change from Facebook's shady data past.
Mental Health and Social Addiction:

In 2018, Facebook changed News Feed rankings in order to prioritize meaningful social interactions and deprioritize things like viral videos. This led to a decrease of 50 million hours' worth of time a day spent on the site—yet the platform maintained the change. They also added time management tools, including an activity dashboard to help users be aware of and limit their online exposure.
Google
Though the documentary focused on social media, it showed concern for the way content on Google and YouTube influence users' access to knowledge, create division through misinformation and radicalization, and encourage prolonged online video consumption.
YouTube Radicalization:

The Social Dilemma's chief criticism of YouTube was its tendency to captivate viewers in feedback loops, or "rabbit holes," by recommending increasingly extreme content. To address this issue, Google last year made several changes to give users more control over, and a better understanding of what and why, videos are recommended.
Mental Health and Over-Consumption:

Like Facebook, YouTube's interface contains a digital wellbeing tool to encourage mental health and discourage strain and overuse. This allows users to see how much time they're spending on the app, turn off notifications for bedtime hours, enable reminders to take breaks from the app, and more.A tab called "Your Data in YouTube" also provides information, resources, and controls relating to watch and search history, web activity, and ad personalization across broader Google, YouTube video recommendations, and more.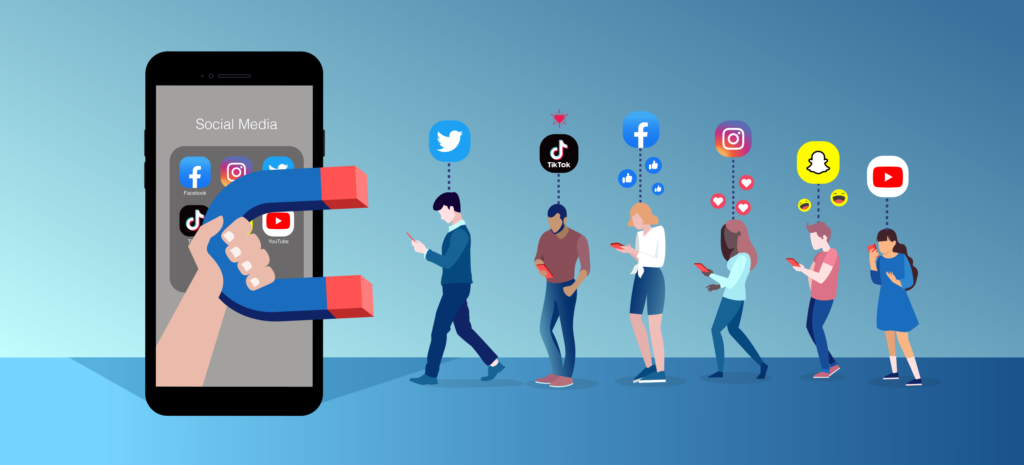 What does KSM Think of The Social Dilemma?
The Social Dilemma got some of the story right, but certain things were dramatized or left out of the conversation entirely. KSM breaks down what they got right and what they didn't as it relates to our clients and business.

What they got right
Free Isn't Free:

The documentary stated, "If you're not paying for the product, then you're the product…It's the gradual, slight, imperceptive change in our own behavior and perception that is the product."That's true, to some extent. The exchange for free media is data made available to brands and advertisers. But that exchange is not as nefarious as the documentary makes it out to be. This change, as they say, is imperceptible—not because it's sneaky, but because it really is minute on the individual level. It could be slightly higher awareness of a brand, or a growing interest in a product or service that you hadn't before realized you wanted or needed.This gradual change that's achieved through personalized advertising makes it feel natural—and that's often part of what makes it effective. People don't like paying for things, but they also notice (in a way that is jarring and annoying) when messaging is irrelevant. Thus, the data-for-content exchange is largely a win-win, at least for people who appreciate a more personalized content experience.
"Selfish" Business Interests:

Yes, social media companies want you to use their apps. They want to attract new users and keep current users because they want to make money.But that's not inherently bad. After all, they couldn't exist if they didn't care firstly (and selfishly) about keeping their business profitable.However, societal and legal blowback (e.g. Facebook in the 2016 election) has forced these companies to look critically at the side effects of this growth-at-all-costs mindset. Now, they are more accountable and responsible with their use of power—and this documentary, among other social pressures, is designed to compel them to keep this up.
What they got wrong
1:1 Visibility and Control:

The documentary presents social media algorithms as puppet masters tugging at the strings of our fictional adolescent protagonist. But in reality, it doesn't work that way. With all our knowledge on users' online behavior, KSM (and Facebook, Google, and all online advertisers) can still never identify an individual across any digital tactic. We advertise securely, ethically, and effectively. As mentioned, the "product" isn't the user, it's information—information on an anonymized person's interests and internet behavior that enhances their personal and private experience at no expense to them.
Societal Impact:

The film implies that social media is responsible for every societal problem that we've experienced since its inception. Polarized and radical politics, discrimination, depression, anger, fatigue: obviously, many of these problems existed before, and they will continue to exist. One of the movie's focal criticisms is that social media reinforces individuals' beliefs and causes polarization by creating partisan "echo chambers" of content by people who all think the same way. However, a recent study showed that this effect is actually overstated, especially when considering the overall variety of media we consume. An individual's Facebook feed might tend to confirm their political views, for example, but that person's online presence is not limited to just the one platform. Social media and YouTube have still contributed to these problems in different ways, but they're not solely responsible for them. And as described previously, they're now finally working to alleviate them.
Public Trust & Usage in the Future:

While the public probably understands that social media isn't the root of all problems, trust in these sites has been declining for years. However, a 2019 survey by Freckle found that most people concerned about privacy acted by adjusting their privacy settings, while few respondents closed their accounts altogether. In fact, the number of active Facebook users has grown steadily every quarter of the last ten years, with over 2.7 billion as of Q3 2020. This documentary brought more attention to the topic, but the information it presents isn't new. The Social Dilemma just reinvigorated the conversation—and by doing so, prompted companies like Facebook and Google to make changes designed to win back public trust. For example, Google Chrome has improved user privacy by giving users more freedom to choose when their browsing data is tracked, and Facebook is making ad-tracking adjustments in response to Apple's recent IDFA moves. It's true that a small number of people might decide to drastically change their social media habits after watching this, but KSM is not concerned about a detrimental loss of advertising audiences across social, especially since these companies are working hard to retain users.
What's KSM's Approach?
KSM has adapted our advertising strategies as the media platforms we use change. Two areas of change include a set of policies prohibiting certain demographic targeting in Facebook, Instagram, and Google Ads, and adjusting KPIs to better align with business goals over engagement goals. KSM will continue to keep vertical specific privacy needs in mind as well.
Anti-Discrimination Policies:

These policies, designed to combat discrimination, bar housing, credit, and employment advertisers from targeting based on age, gender, zip code, and parental status. In compliance, KSM has turned to alternative methods of qualifying users. For example, using life stage targeting such as Moving and Recently Married as a strategy to reach young adult users.
KPI Adjustments:

With the film speaking to the addictive qualities of technology, KSM recommends social KPIs be more business-oriented and less click oriented. For example, using CPA or ROAS instead of CTR. While engagement (i.e., clicks) is a great way to see how users are interacting with a brand, it also plays into the addictive nature of technology—"always searching for that next drop of dopamine," as the film puts it.
By ensuring KPIs are centered on more business-oriented goals, we place priority on users who are most likely to purchase a product or produce a lead, rather than trying to deliver the most clicks.
Vertical-Specific Privacy Needs:

Because we have clients that fall into various industries, KSM has always been cognizant of the more sensitive verticals and the targeting that is not allowed within them. For instance, for financial and healthcare clients, we are unable to use certain demographic targeting and remarketing tactics due to the privacy concerns specific to those industries. In order to find the right users, we implement strategies such as lookalike audiences to work around these 1PD restrictions.
First-Party Data:

KSM takes a consumer-protective approach to leveraging any type of customer data. In order to avoid accessing any personal information, KSM ensures all tech partners leverage data in privacy-compliant manners (i.e., anonymized prior to any targeting activities). We never see these customer lists, and as such are not privy to any names, emails, addresses, etc. While users voluntarily share this information, it is still very personal, and we want to respect the privacy of consumers while still leveraging this highly sought-after 1PD.
The steps being taken by social giants and the industry at large will create solutions that balance the privacy, personalization, and content needs of consumers and advertisers alike.
Considering everything The Social Dilemma brings up, KSM's goal remains the same: To grow our clients' businesses by bringing them together with the right users at the right time.
Media personalization isn't designed to create addiction, but to create value.
A 2020 SmarterHQ study found that 90% of consumers say they're willing to share behavioral data in exchange for a cheaper or easier shopping experience. Additionally, a smaller proportion of people online use ad blockers now than in 2016, meaning that users aren't predominately bothered by ads—especially if they're useful and relevant.
KSM's media advertising targets audiences based on their interests (and in some cases, what they are actively looking to buy) in order to reach the people who are most likely interested in our brands.
Users may certainly decide to change online habits, reduce the amount of data stored about them online, or act on any of the other suggestions from the documentary. And in response, publishers and platforms will need to continue figuring out ways to ensure their advertising is still desirable to marketing partners, namely by cultivating trustworthy environments that encourage mutually-beneficial data exchanges between users and brands. Otherwise, these platforms will have to come up with different ways to monetize their business, such as asking users to cover more of the operational cost via paywalls on websites and apps. In any case, it's certainly a fluid moment in the evolutionary timeline of online marketing that's giving many brands déjà vu (remember the buzz about ad blockers?).
With open internet usage, finding that perfect balance of personalization versus privacy is different for each individual. To what extent is it important to have personalized and relevant ads, feeds, and recommendations, and what information are people comfortable with sharing to achieve that? These core issues have been with us since the dawn of digital advertising, and will stay with us over the coming years as the industry adjusts yet again to ebbs and flows in consumer demands.
For KSM and our clients, relevant and informed advertising is worth far more than its face value for how it powers businesses and connects them with the people who will come to love them. That's why we're confident that the steps being taken by social giants and the industry at large will create solutions that balance the privacy, personalization, and content needs of consumers and advertisers alike. After all, they have to, or they'll risk becoming obsolete.